Bensalem's state runner-up baseball team was honored by Bensalem Township at the Penn Community Bank Amphitheater on Tuesday afternoon. (To view photos of Friday's state title game at Penn State University, please visit the Photo Gallery at the following link: http://solsports.zenfolio.com/p716592452).
By Mary Jane Souder
BENSALEM – Stephen Aldrich called his Bensalem baseball team "a brotherhood."
"I'll never forget the kids I played with," the Owls' senior mound ace said. "It's a brotherhood. We're all brothers."
By any name, this year's squad will never be forgotten, earning its spot in history with a magical season that saw the Owls capture the Suburban One National Conference title as well as the program's first District One 6A crown. They followed that with a magical run to last Friday's PIAA 6A state title game at Penn State University where the Owls fell to Canon McMillan 10-3.
On Tuesday afternoon, the Owls put an exclamation point on a memorable season when they were honored by Bensalem Township at the Penn Community Bank Ampitheater.
"I was born and raised here, and to see how they came through the ranks and handled themselves and played baseball – (Friday) was one of the proudest days I've had in Bensalem," Mayor Joseph DiGirolamo said. "It was incredible how these young men handled themselves this whole season – the playoffs especially because it's a lot of pressure on them, and they just handled themselves so well. They make us all proud. I know proud is a word you use a lot, but it says a lot for this team.
"They made Bensalem look so good. We're one of the 50 best places to live in the country, and you know why? Because of our school district and our kids – that's why."
Bensalem Superintendent Dr. Sam Lee eloquently described the Owls' season.
"Performance, presence, pride and pure class sums up this team's season," Dr. Lee said. "We're so proud to represent an incredible community with a rich history of athletic and academic success, but this group has succeeded like no other group in Bensalem High School history."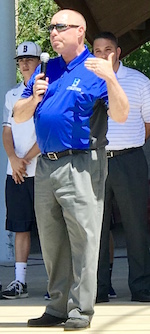 Each of the players received citations from Bensalem's state legislators, Sen. Tommy Tomlinson and Rep. Gene DiGirolamo, as well as from Mayor DiGirolamo's office. The township presented the school with a trophy in recognition of the team's historic season.
"How do you define what you guys did?" the Mayor asked, turning to the players as he made the trophy presentation.
"Team and unity," senior Keith Parrish said.
That unity was underscored when the players spoke about the season just completed.
"It's amazing," senior Nick Fossile said. "We never thought this would happen, but the best part is that I got to do it with all my best friends, my best friends since we were little kids.
"It was just cool to play the final game we could this season with my best friends. Even the practices – we knew it would be our last practice, and we just took it all in. That's what was the good part – we took it all in. When we're 20 years older, 30 years, 40 years older, it's going to be a great memory."
Parrish echoed a similar sentiment.
"This team I've been around since I was nine or 10 years old," the Owls'
senior centerfielder said. "We've been playing ball since then, and every time it's the season – we hung out every weekend. It's just the way it's been for about 10 years.
"Our senior year we came out and played, and we just got closer than we ever were. It's going to be hard to say good-bye this year. I've got a lot of memories – jerseys, the glove I have. It's all from just this year. I'm going to save it forever."
Tuesday's celebration was an opportunity for the community to express its appreciation to the squad, and it also afforded the coaches, players and administration an opportunity to reflect and say thank you.
"I just really want to thank the community," Bensalem athletic director Geoff Per said. "When these players got on the team bus (at Penn State) and got off the turnpike at 11:15 on Friday night, they were met by at least four motorcycle police officers, multiple SUVs, at least 10 fire trucks, a couple of ambulances. They got a nice police escort.
"That's a memory they're going to have the rest of their lives. They're never going to forget that special moment. The way the community rallied around this team is really special."
"The community was with us the whole time," Parrish said. "Every away game was an hour-and-a-half or two hours away – they were there. Everybody from Bensalem came out and supported us."
"I knew the community was helping us out a lot," Aldrich said. "I could see all the families coming to the games, all the students that were coming to the game, but what really hit me that the community was helping us was that escort back to the field. That really showed that they cared.
"As soon as we got off the (turnpike) exit, we saw the lights. I didn't realize how many were there until we got to the field and saw fire truck after fire truck after fire truck."
Several players addressed the crowd in attendance on Tuesday.
"I just want to thank the whole community for coming out and showing love and helping us out and thank my team for always backing me up when I'm pitching," Aldrich said.
"I just want to thank the community and Bensalem High School for making every postseason away game feel like a home game," senior Scott Rooney said.
"I just want to start off by saying coach Harry Daut is the man," senior Brian Swentkowski said. "I've been with him six, seven years now, and by far, he's the best coach I've ever had in my life and the best coach I'll ever have."
Swentkowski also gave a shoutout to Chris Keenan who was called up on the stage.
"He's been our biggest fan since we started playing as freshmen," the Owls' senior shortstop said of Keenan. "He's been to every game, supported us the whole way, been on every bus ride."
*****
The Owls' success this season didn't just happen.
"These guys works hard," Per said. "This season started long before March when the official first day of PIAA practice was. These guys had offseason workouts back in the fall, back in the winter.
"They made the district playoffs last year for the time in about 15 years and set the stage. (There were) a lot of returning players, returning coaching staff, and they worked hard. They had a goal 12 months ago. There were 627 schools in PIAA that played baseball this year. I remember the umpire and director of the PIAA telling us before the game – there are 627 schools in Pennsylvania playing baseball, and you're the final two teams."
"This has been going on since November," coach Harry Daut said. "These kids really worked hard straight on through.
"I'm extremely proud of these guys. They are really first class guys, and when we're talking about academic eligibility – I'm pretty darn proud of their academics. I love all these guys up here – they're awesome.
"And the parents and all the support we received from the community – it was really first class. The welcome home – it was a great thing. Fire engines, police cars – it was awesome."
By the time the team arrived back at Bensalem late Friday night, the players were able to put the loss to Canon McMillan in perspective.
"After the game, you're all sad because we lost, but halfway home, we stopped at Sheetz – the bus lightened up," Aldrich said. "We all realized – the season's over, but we made it as far as we could. The only thing we could have done better was win. It can't get much better than that."
It's an ending even the players admit they couldn't have predicted.
"When we were at Snyder (Middle School), we were a pretty good team, but we had no idea we would make it to the state championship in the biggest division in the whole state," Fossile said. "When we were little kids – six, seven years old, we didn't even think about this.
"It was the chemistry, the trust in each other and how great coach Harry is in everything – he's amazing in preparing us for each game. He's got a great sense of humor, he makes us love the game. He's just a great guy, and I'm just so happy we had him as our coach – he's awesome."
Ed Kisselback spoke on behalf of Bensalem Township Council.
"I'd like to congratulate you guys – you did a wonderful job," the Township President said. "Some of you have been playing together since you were eight years old, and you represented Bensalem as the best in Pennsylvania.
"It's something you won't forget, and it's something you will relive your entire life. Ten years, 20 years, 30, 40, 50 years you'll be telling your grandchildren about when you went to Bensalem High School and you played baseball together."
It was a season no one associated with Bensalem will ever forget, a season that united both the school and community.
"I just want to thank everybody for coming out and showing support," Parrish said at Tuesday's celebration. "I really appreciate it, so does everybody behind me. Bensalem strong – I love you all."