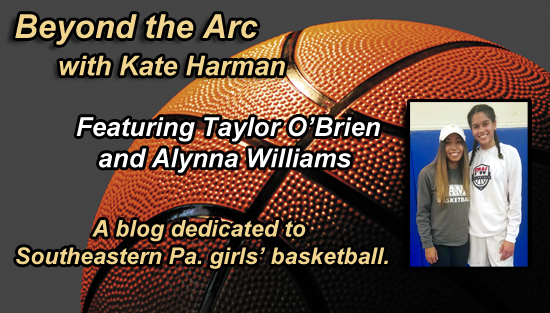 By: Kate Harman
"See that" Alynna Williams said from the stands at Colonial Elementary, sitting several rows up and across from the Plymouth Whitemarsh bench she used to occupy when she needed a quick breather from the breakneck pace with which she plays the game of basketball.
"Freshman year, T would have cried, yelled, been upset with herself. Now, she's laughing, has a smile on her face."
Who's "T"?
Why that's Taylor O'Brien, the dynamic senior point guard for Plymouth Whitemarsh.
"That" refers to a rapid sequence of events during a Suburban One League American Conference match-up for the Colonials (9-1). One in which O'Brien turned the ball over but then recovered with a steal and an easy bucket. The game was already decided by the time the back-to-back plays occurred – only 3:52 remained on the clock in a 30-point contest – but Williams saw the moment as something that demonstrated just how far O'Brien had come.
She would know.
Dynamic senior point guard for Plymouth Whitemarsh is exactly how people used to describe Williams.
Back then, O'Brien was a freshman still learning how to play the game at the varsity level, adjusting to the speed of it and the more experienced opponents. Now she's putting up 23 points, 5 rebounds, 4 steals and 2 assists a contest, continuing to put in performances like the star making ones from a season ago. As for Williams, she's a redshirt sophomore for the 12-2 Jefferson University Rams, starting all 14 games and averaging 11.8 points, 3 rebounds, 3 assists and 31 minutes, compiling conference player of the week honors in the process.
"I was Alynna's head coach for three years and it was really the tide turning of the program," Dan Dougherty, in his sixth season, said. "That's when we started making it to District playoffs. We started competing with Upper Dublin – we finally beat Upper Dublin Alynna's junior year. And now Taylor has continued that torch."
Even though they were three years apart and had never played with one another before, Williams and O'Brien hit it off almost immediately, with the senior deciding to take the freshman under her wing early on. It started with a conversation she had with assistant T.J. DeLucia about the future of the program, but it didn't take much to convince the 5-foot-2 sparkplug to mentor O'Brien.
"We clicked right away," Williams said.
Rides home – albeit short ones considering how close O'Brien lives to school – trips to Dunkin Donuts, and matching outfits on Twin Day that prompted questions about the two being related solidified their relationship.
Soon, O'Brien became the first person Williams looked for in the hallways­, as the two often spent their free time watching game tape or meeting up during free periods to talk.
"I remember playing with her and thinking wow," O'Brien said of her first year suiting up for Plymouth Whitemarsh. "I hoped one day to play like her. She always knew what to do with the ball, knew what she was doing and I had no idea what I was doing. I wanted to be like her. I remember even in the beginning she helped me with everything. She's like my big sister.
"She's been like a mentor to me – she's taught me so much," the Bucknell recruit and 1600-point scorer continued. "She helped keep me composed on the court and did little stuff to keep me going throughout the season. Over time we became closer and closer and we kept growing."
Hanging up in her townhouse dorm room, Williams still has the poster O'Brien made her for senior day. It has pictures of the two of them and some sentimental words that made both of them cry three years ago. They still talk at least once a month – it isn't always about basketball, Williams insists – and recently O'Brien borrowed a pair of overalls from her friend even though they have an eight-inch height difference.
Through it all, they both can't help but wonder what would have happened if they had been able to spend more than 22 games on the floor together for the Colonials.
"I'm extremely curious to see what it would be like, her now, me now," Williams said. "The potential was there that year, but it takes a little bit to get going, so that's frustrating. We were good together already, but we could have been great together. We had so much fun, I miss playing with her a lot."
They've both come a long way since the lone season they spent as a backcourt duo. O'Brien has matured, developed a three-point shot and blossomed into a leader – the type of leader Williams tried to teach her to be. Williams has grown too, citing her basketball IQ and increased playmaking abilities, as well as improved confidence.
And both are having pretty big moments right now for their respective – and successful – programs.
"I can't wait to see what she does at Bucknell," Williams said. "She is going to reach her top, max, of who she is going to be, what she is capable of on the court. I think she is going to shock a lot of people and I'm excited to see what she does next year. I'll be waiting online, streaming the games."
After the contest, the one where Williams pinpointed the play that demonstrated O'Brien's growth as a player – the one where Williams surprised O'Brien with her presence in the stands – the mentor walked over to the mentee.
"Oh, my gosh, hi," O'Brien squealed, a grin overcoming the entirety of her face, as she hugged Williams.
"I can't believe you came."
Of course, she did. She wouldn't want to miss seeing that.
@Ka_Harman
KateRHarman@gmail.com