Former adversaries were teammates at Friday night's Bucks-Mont Lions Club All-Star Game. Scott Huff highlights SOL players from both sides. Photos provided courtesy of Kim Supko and John Gleeson. CLICK HERE for a gallery of photos.
By Scott Huff
Doylestown – It's all about winning – and there was a tremendous amount of winning on display Friday night at James Work Memorial Stadium on the campus of Delaware Valley University.
The Bucks All-Stars held off a stiff challenge from the Montco All-Stars and collected a championship trophy with a 20-13 victory in the Bucks-Mont Lions Club All-Star game.
Attractive plagues were dished out to outstanding players from both teams.
The offensive players of the game were Christian Jabbar (Bucks/CR South) and Sterlen Barr (Montco/Upper Moreland).
The defensive players of the game were Joel Stills (Bucks/Neshaminy) and Antaun Lloyd (Montco/Wissahickon).
The Sportsmanship Awards were given to Nika Wright (Bucks/Pennsbury) and Brett Johnson (Montco/Hatboro-Horsham).
But the biggest smile of anyone on the field after the game belonged to Mitchell Vierling who played for the winning Bucks team and played his high school football at William Tennent High School.
"This is such a great feeling – the weight of the world is off my shoulders," smiled Vierling who quarterbacked a Panther team that was winless (0-20) the last two seasons. "I just love playing the game – and this was a great group of guys to be around."
Vierling is a gifted 6-foot, 3-inch quarterback that will take his talents to Widener next season.
"I love the coaches at Widener," said Vierling. "I love playing this game, and to get a chance to play again next year is special."
Winning for the first time in two years was indeed special – and winning football programs attracted some of the very best from both the Bucks and Montco All-Stars.
Delaware Valley University finished last season with a 12-1 overall record. The Aggies season did not come to a close until a 31-28 loss against Brockport in the NCAA Division III playoffs.
That winning tradition attracted both Andrew Basalyga (Bucks/Pennsbury) and Chris Smith (Montco/Upper Dublin) to the Doylestown campus.
"I am going to work my hardest to play both offense and defense in college," said Basalyga who played quite a bit on both sides of the ball in the Bucks win. "I never want to be out of the game – not even for one play.
"I love playing this game – I have been playing this game since I was four years old," added Basalyga. "The Delaware Valley coaches and campus were a great fit for me."
Smith wore a lineman's number both with Upper Dublin and again with the Montco All-Star team. But those two numbers – 55 and 61 – will no longer be his uniform number.
"I was told that I would most likely play fullback next year at Del-Val," said Smith who played an excellent game on the defensive line against the Bucks team. "It is exciting to be able to have a change of position.
"This game was a great experience for everyone on the team," added Smith. "Another Friday night game – most of us will be playing on Saturday afternoon next year."
West Chester University is another of those local football powers that has attracted the very best talent in the area.
The Golden Rams finished last season with a 9-3 record – a PSAC Eastern Championship – and made it to the second round of the NCAA Division II playoffs.
Sterlen Barr(Montco/Upper Moreland) and Nick Chapman (Montco/Hatboro-Horsham) were fierce adversaries on the high school level, but Barr and Chapman were teammates on the Montco team – and will also be teammates at WCU next year.
"I love my Purple and Gold," said Barr in reference to the colors of both Upper Moreland and West Chester. "Playing with Nick this week – and next year at West Chester – is all about love.
"Both of us are going to work hard to bring another championship to West Chester," added Barr. "We are both ready to take the next step – we are ready to go."
"When we met for the first time this week we forgot all about the (high school) rivalry," said Chapman. "This was a great way for the players on these teams to be ready for the next level.
"I chose West Chester because it is close to home," added Chapman. "But it was also about their winning program."
Barr and Chapman were on the same sideline with WCU destinations – while Michael Gobora (Bucks/Pennsbury) andNoah Collachi (Bucks/CB South) were also All-Star mates with WCU destinations.
Gobora and Collachi played side by side as defensive tackles for a Bucks team that limited the talented Montco team to just 13 points.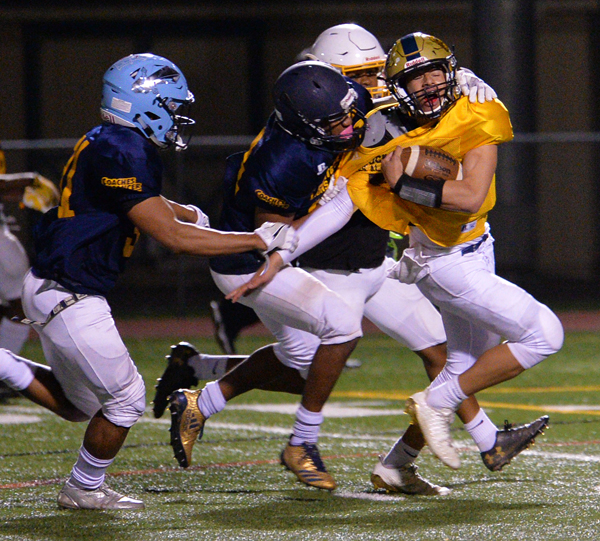 "This was a glimpse as to how it might be next year," said Gobora. "I am really excited to play at the next level, and it will be great to do it with Noah.
"I love competition and this was a great opportunity for all of us," added Gobora. "These were all great players on the field tonight."
"I think that he (Gobora) and I developed some good chemistry this week," said Collachi. "It has been a fun week, and getting to know the players from all the other teams has been fun.
"A lot of the players that chose West Chester went to the Spring Game – and that was a nice experience," added Collachi. "West Chester has a great football tradition – and a terrific program."
A program much like Delaware Valley – and the Lions Club All-Stars – that is all about winning.
And that just isn't a bad passion.
Montco All*Stars 7 0 0 6 - 13
Bucks All*Stars 14 6 0 0 - 20
M: Sterlen Barr (Upper Moreland) 33 pass from Jordan Gyabaah (Cheltenham) – Kelly McNamara (North Penn) kick.
B: Jesse Capriotti (New Hope) 41 run – (kick failed).
B: Christian Jabbar (CR South) 4 run – Andrew Basalyga (Pennsbury) pass from Jabbar.
M: Anthony Andrews 2 run (kick failed)
-30-