CR North defeated CB East 3-0 in Thursday night's District One 3A title game at Bensalem High School. Captain trophy shot provided courtesy of Richard Wyatt. Remaining photos provided courtesy of Jon Sklut. Check back for a gallery of action photos.
BENSALEM - Jack Gunshenan's no-doubt-about-it kill for match point in Thursday night's District One 3A title match against Central Bucks East set off an emotional celebration on Council Rock North's side of the court. It was a celebration that was a long time coming for an Indian squad that hadn't forgotten how – 364 days earlier - the Patriots had brought an abrupt end to their season with a sweep of the Indians in last year's third place district game.
"All year we've been saying that this is a special team, and it's our year," Gunshenan said. "We remembered being bounced early last year, and we didn't want that to happen again.
"We really feel a special bond between the seniors and all the surrounding pieces. We knew we could take it far this year and really come in with a chip on our shoulder ready to get revenge."
The Indians got the revenge they were looking for, earning an impressive 3-0 sweep of the Patriots at Bensalem High School, 25-16, 26-24, 25-21.
The journey to the district crown actually began with last year's semifinal loss to Pennridge. The Indians avenged that loss in Tuesday's semifinals with a sweep of the Rams.
"It's definitely something we've worked very hard for since last year," senior Harry Wyatt said. "Losing to the two teams (last year) that we beat this year is something we've been looking forward to and something we've been pushing every day to get to. Luckily, it paid off for us."
Making last year's loss to CB East especially painful was the fact that it not only sent the Indians home for the season, but it came on their home court.
"We were at home, and we were the higher seed," Rock North coach Greg Marchetti said. "You look for opportunities in life, and sometimes they present themselves and sometimes they don't present themselves.
"The opportunities that we were presented were a wonderful experience. I just love the fact that these guys enjoy challenging themselves all of the time. We knew coming into the season that we were going to have a really good team. The big idea is can you step up in big moments, and last year in big moments, we had a lot of juniors on the court and those moments sometimes get the best of you. This was a great match. I know it was a 3-0 score, but it was far from a 3-0 match."
The Indians have 11 - count them - seniors on their roster.
"It's extremely competitive," William Hewitt said. "But it's a lot of fun too."
"Everyone has their own role on the team," Gunshenan said. "Everyone is competitive in practices, but we're still great friends out of volleyball.
"Even after we talk smack to each other in practice, it's just to get each other motivated and make the team better. Everyone understands their role and is happy to be in that role."
The lengthy list of contributors underscores the Indians' balance and depth. Harry Wyatt led the Indians with 15 kills, seven digs and one ace. Setter Nick Baniewicz had 21 assists and one ace. Gunshenan had six kills, six digs, 1.5 blocks and one assist. Libero Eddie Mancinelli – the goalie for the Indians' successful soccer team in the fall - had eight digs, two assists and, yes, one foot kill on a remarkable return from the back row that stunned the Patriots after a teammate saved a ball that was heading to the stands. Justin Burns had five assists, four digs, and two blocks, and Sean D'Arcy had five kills and one block. Hewitt had two kills and two blocks, and Kevin D'Arcy had two kills and 1.5 blocks. Justin Walton had three digs.
"Our biggest strength is we have balance," Marchetti said. "When we go through all six of our rotations, there's balance. All six of our starters were recognized as all-league players, and that's just a credit to each one of them individually throughout the offseason just always continuing to try and get better. I couldn't be more proud of them.
"People thought I was crazy for carrying the 12 seniors when they were sophomores. They said, 'How are you going to get them all playing time?' I said, 'If you can get the right group of guys to buy in, the depth we have on our bench is what carries us. Our practices are so ultra competitive, and it really, really shows off when you get into a big match because we can have a practice where our starters get beat in practice, and that is a really, really hard thing to replicate for a coach."
The three sets in Wednesday's title match followed remarkably similar patterns. The Patriots opened up an early lead in all three but couldn't maintain it.
"The biggest thing was our passing let us down a little bit on serve receive," coach Rob Minschwaner said. "We'd get up, but our poor (setter) Steven (Storm) was being run ragged with some of those passes.
"I think they did a good job. They tested all of our passes and found out they shouldn't serve it to Jacob (LaBouliere), and once Jacob stopped touching the ball, our passing went downhill. That was huge for them, and face it, they just did not make a lot of errors. They played outstanding volleyball. I told the guys – nothing to be ashamed of. We had a great league season, a great district season, and now we'll see how far we can get in states."
In the opening set, the Patriots led 6-4 after a Dylan Colbert kill. It was 9-6 game after Storm delivered a winner, but the Indians answered with a 4-0 run that included a Sean D'Arcy kill, an East hitting miscue and back-to-back Wyatt kills. The Indians closed out the set with a 16-7 tear.
"Something we've been working on all year is trying to stay positive, not putting our heads down when we're down a few points, keeping our heads high and keep going through the whole game, " Wyatt said. "Being so close to home and having a solid fan base – we definitely fed off that crowd, and it kept us going the whole match."
In the second set, the Patriots led 4-2 early and upped that lead to 11-6 after a Carter Haban kill. They still led 14-11 after another Haban kill. The Indians, however, answered with an 8-2 tear that included four straight Patriot miscues. The Patriots battled back to knot the score 24-24, but after a Patriot net serve, Keven D'Arcy and Gunshenan combined for a block for set point.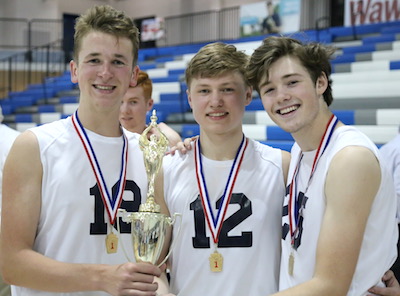 The third game was another war. The Patriots stayed close and trailed by just two (20-18) after a Jack Miller block in the middle. They would get no closer, and Gunshenan's kill put the finishing touches on the match.
"I think the moment I'm going to remember most is coming together with my seniors and celebrating," Gunshenan said. "It's the last district championship we're going to play in, and meeting at the center of the court after the game and just being able to embrace our teammates that we've been riding with for months and months – it was special."
"It's been an amazing year," Hewitt said. "We're looking forward to states."
For the Patriots, LaBouliere led the defense with 28 digs.
"He had an exceptional night," Minshwaner said.
Storm distributed 25 assists while picking up five digs. Haban finished with 13 kills and six digs. Colbert had 12 kills and five digs. Other Patriot contributors were Christian Wolf (two kills, one ace, one dig) and Andrew Bennett (one kill, one ace, 11 digs).
"I think the big thing for us is they have age on us," Haban said. "Their starting lineup is almost all seniors, and we have a lot of young kids, which is great to see because they've experienced a loud gym like this now, they've experienced those butterflies in your stomach before you step on the court for the first time.
"I think there might have been a little bit of nerves, but that's okay – we're still going to states. I look forward to it. If we play our best, pass our best and keep our heads on, we can beat a lot of teams."
In Tuesday night's semifinals, the Indians rolled to a sweep of the Rams while the Patriots were coming off a grueling come-from-behind five-set win over Pennsbury. "For me, I cramped up really bad that night, and I'm still a little sore, but that's not any reason or excuse," Haban said. "We come to every game, we come prepared.
"We didn't have one of our normal middles (Thomas Gallagher-Teske), but we worked around it. We have a senior who started playing three months ago – Erik Coombs – come in, and we had another middle, Jack Miller, come in, and it's great to see that depth because next year when I'm gone and I come back to watch just like all the other alumni in the stands, we're going to be the older team, but we're still going to have one more year because we have almost all sophomores."
Both teams will be in action when the PIAA Class 3A Tournament begins on Tuesday.
Third Place
PENNSBURY 3, PENNRIDGE 0 (28-26, 25-18, 25-23)
The Falcons clinched the final state berth with their sweep of the visiting Rams.
Charlie Bluestein reached a milestone for the Falcons, setting the all-time career dig record with 396 digs. Bluestein passed 2008 grad Justin Mueller who had 395 career digs. Making this an especially impressive accomplishment, according to coach Justin Fee, is that only regular season and playoff matches count toward the stat totals. Tournament stats are not included.
Bluestein finished with 10 digs and two assists. Brett Garretson had seven kills, three digs and two blocks, and Justin Sadley had nine kills, eight digs and two blocks. Luke Bucksar had three kills, one ace and six blocks, and Danny Quay had two kills, one dig and three blocks. Kyle Faulcon had four kills, three digs and one block. Setter Andy Delworth had 24 assists, three digs, two blocks and two kills.
For the Rams, Chris McKinney and Kevin Jones led the way at the net with eight kills each. McKinney added two blocks. Cross Edwards had seven kills and five digs. Also contributing were Zach Detweiler (three kills, three blocks) and Ryan Benscoter (three kills, two blocks). Danny Rutter led the defense with eight digs, and Ethan Lionetti had seven. Jeremy Pruss had four digs. Setter Corey Quaste had 22 assists.
Pennridge closed out its season with a 16-5 record.