Neshaminy saw its memorable postseason run come to an end with Monday's PIAA 6A semifinal loss to Parkland. Photos provided courtesy of Jesse Garber (http://jsgarber.zenfolio.com/p524061726) and John Gleeson. Check back for a gallery of Gleeson's photos.
#11-1 PARKLAND 7, #1-5 NESHAMINY 0
ALLENTOWN – Endings are never easy, and for a Neshaminy team with its sights set on a trip to Penn State University and Friday's PIAA Class 6A title game, Monday's loss to Parkland in the semifinals was especially heartbreaking.
Conspicuously absent from the Redskins' somber postgame meeting was the team's theme song, Bon Jovi's "Livin' on a Prayer," a song that coach Dave Chichilitti listened to on the way to every game since taking over the helm eight years ago.
Several years ago, the players caught on to their coach's penchant for the song and began singing it together on the bus rides home from games. It took on new and special significance during the Redskins' postseason run when – after three years of early exits from districts – they defeated Downingtown West 3-2 in their first playback game.
When Chichilitti joined his team in the outfield after the game, the Redskins' coach broke into the lyrics of 'Livin on a Prayer,' and the players joined him. A tradition was born. After each win, the team's postgame meeting included a spirited rendition of the Bon Jovi hit.
After Monday's loss, Chichilitti put a new spin on the song.
"They got stuck on the 'we are halfway there, take my hand and we will make it I swear' part,'" the Redskins' coach said. "I told them the beginning of the chorus was the part they didn't think about, but that was way more important when it comes to life – 'We have to hold on to what we got, it doesn't make a difference if we make it or not, we got each other, and that's a lot for love.'"
*****
Sarah Dowalo and Natalie Rios grew up playing together in their backyard as youngsters.
"We've been friends since third grade," Dowalo said. "She lives on my street.
"She would come over every day after school and we would play whatever we came up with that day. I love her so much."
That genuine affection wasn't reserved for just the two neighbors. All of the Redskins were struggling to say their good-byes, and plenty of tears were shed after Monday's season-ending loss in the state semifinals at the hands of the District 11 champions.
"It's so tough," Dowalo said. "Most of my teammates – I've been playing with them for years, and this is the last time I'll ever play with them.
"I'm going to remember all the effort everybody put in and all the everlasting friendships we've made and how close we've all been. I'll just never forget everybody. It's hitting me pretty good right now. It's like somebody is cutting onions."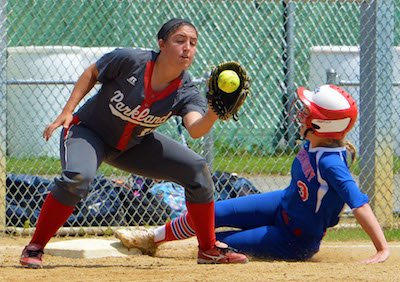 Monday's loss – although difficult to swallow – isn't what any of the players will remember. Rather, they will remember the good times they shared.
"The scavenger hunt we had one year, the pasta parties, all the games we've played together – there are so many things," senior Amber Brugger said.
As for Monday's game, Dowalo and Brugger shared time in the circle against a Parkland squad that was on top of its game. After leaving the bases loaded in the top of the first, the Trojans scored a pair in the second and had six hits through two innings, including a pair by designated player Kylie Hlay.
"I thought my pitcher did a really great job – they just absolutely hit the ball, no matter where we threw it," Chichilitti said. "High, up, in, out, slow, fast – (Dowalo) did everything she could. Amber (Brugger) did everything she could. That team just hit the ball really well today."
All told, the Trojans pounded out 15 hits. They added three runs in the fourth and put the game out of reach with two more in the fifth.
"They all know how to hit up and down the lineup," Dowalo said.
The Redskins, meanwhile, were having very little success against Trojan ace Kiley Dulaney. Brugger, who drew a walk to lead off the game, collected the Redskins' first hit with a two-out single in the third.
"She's one of the faster pitchers we've faced," Brugger said. "In the beginning, we were a little late, and then we started hitting her.
"We were hitting it right at people. They definitely were on their game. I think they are the best team we've played."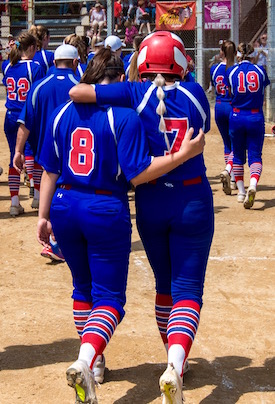 Brugger had two of the Redskins' four hits. She doubled to lead off the sixth – the first Redskin to get beyond first base. She moved up to third on a groundout to the pitcher but was stranded.
"I don't think we struck out more than three times, and we hit some balls hard ourselves, but it was one of those days – it was right at people," Chichilitti said. "We ran into a really good team. I'm proud of my girls.
"They'll look back on it – it's always about the ride, it's always about the memories. They deserved that. I couldn't be more proud of them."
Eight seniors represented the heart and soul of this year's squad. Seven – Brugger, Dowalo, Amanda Kurtz, Paige Metz, Natalie Rios, Vic Smith and Alexis Watkins - were in the starting lineup. The eighth – Hallie Duffy – was also a starter but was injured when a ground ball took a crazy hop in practice prior to the Truman game on May 10. She was sidelined ever since with concussion symptoms.
"Four consecutive SOL titles, a ride to the (state) semis – one of the winningest classes we've ever had," Chichilitti said of his seniors. "Almost got the full experience. Almost."
Listening the players tell it, this group got the full experience and then some.
"Most of us have been playing since we were 10," Brugger said. "We're all going to college and we're all separating now.
"It was so fun. Every year we would end it early. We've all wanted the same goal for so long. Me personally, I'm so proud of this entire team. We almost made it. One more game we'd be at Penn State. I'm so proud. "
Neshaminy (10-2 SOL) closed out its season with a 21-5 record.
"We had a lot of fun," Chichilitti said. "We made a lot of great memories that will last forever.
"You want to take that step and be the champion like everybody else does, but when you come up just short and you get the experiences we had and the fun we had, you can look back on it later on and say – it was a good year."
Neshaminy 000 000 0 0-4-1
Parkland 020 320 x 7-15-1
Neshaminy (0) – Amber Brugger 2-0-2-0, Olivia Fee 2-0-0-0, Asia Barnard 1-0-0-0, Natalie Rios 3-0-0-0, Liana Jones 3-0-1-0, Amanda Kurtz 3-0-0-0, Alexis Watkins 3-0-1-0, Paige Metz 3-0-0-0, Vic Smith 3-0-0-0, Sarah Dowalo 2-0-0-0, TOTALS 25-0-4-0.
Parkland (7) – Chelsea Morgan 3-2-0-0; Makenzie Wolfe 4-1-4-2, Kylie Hlay 4-1-4-1, Steph Herpel 4-0-1-3, Ashley Gallina 4-0-1-0; Kiara Bryant 2-0-1-0 Madolyn Fernandes 0-1-0-0, Kelly Dulaney 4-2-3-1, Renee Snyder 3-0-0-0, Caroline Rivera cf 2-0-1-0; Megan Fenstermaker 1-0-0-0, TOTALS 31-7-15-7.
2B: Neshaminy – Amber Brugger, Parkland – Steph Herpel, Kiara Bryant, Kelly Dulaney.
WP-Kelly Dulaney (7 IP, 4H, 0R, 0ER, 4K, 1BB)
LP-Sarah Dowalo (4.2IP, 12H, 7R, 7ER, 5)