The North Penn Maidens defeated Cumberland Valley 7-6 to capture the program's second state title in as many years.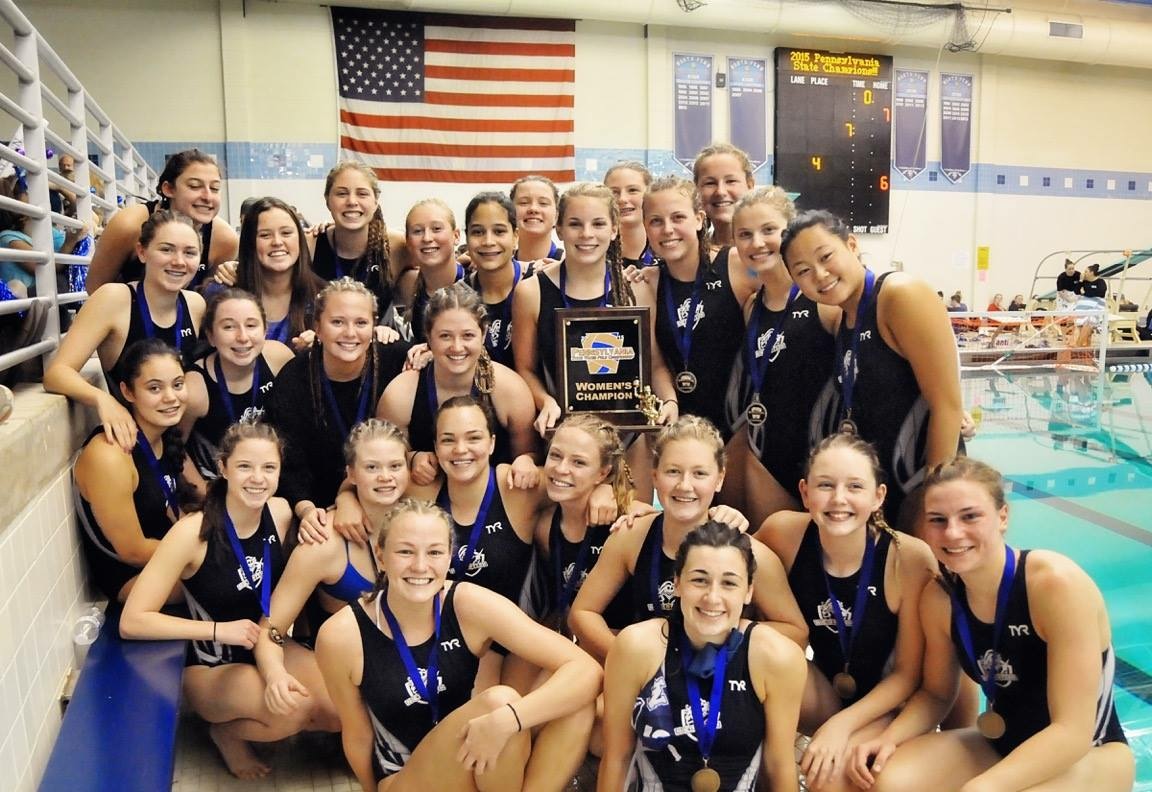 (Submitted Photo)
Perfection.
It's difficult if not impossible to attain, but the North Penn Maidens achieved perfection this season, capping a 29-0 season with a heartstopping 7-6 win over Cumberland Valley to capture the 2015 Pennsylvania State Water Polo title.
The Maidens rallied from a 4-3 halftime deficit to earn the win. Senior captains Erin O'Neill and Shannon Quinn each scored a goal to put the Maidens on top 5-4. The Eagles came back to knot the score, but Leah Brown scored with a minute remaining in the third quarter to put the Maidens on top 6-5, and sophomore Caroline Gillespie added an insurance goal to make it 7-5 midway through the final quarter.
Sophomore goalie Rosalinda Rivera was tested during the fourth quarter when the Maidens were in foul trouble, and she made several huge saves to keep her team on top. With 15 seconds remaining in regulation, Cumberland Valley's Emily Wickenheiser – who earned PA Player of the Year honors – netted another goal for the 7-6 final. North Penn held on for a victory that gave the program its second consecutive state title.
Brown finished with the hat trick to lead the Maidens while Quinn added a pair. O'Neill and Gillespie each had single goals. Rivera was credited with 12 saves in goal. Kailyn Evans and O'Neill each had four saves. Quinn also had four exclusions drawn, and Aimee Baur had two.
North Penn's route to the title game included a 14-5 win over Pennridge on Friday that, according to coach Katie Grunmeier, was a total team effort. On Saturday morning, the Maidens faced their first real test of the season but prevailed, defeating Villa Maria Academy 11-8. Contributing goals for the Maidens were Brown (4), Baur (3), Quinn (2), O'Neill (1) and Evans (1).
Brown led the team in scoring with nine goals in the tournament, followed by Baur (7), Quinn (6) and O'Neill (5). Rivera recorded 34 saves in the three tournament games.
Earning first team all-state honors were seniors Shannon Quinn, Erin O'Neill, Leah Brown and Aimee Baur. Junior Kailyn Evans and sophomore Caroline Gillespie received all-state honorable mention. Coach Katie Grunmeier was named PA girls' Coach of the Year.
In addition, O'Neill, Quinn, Brown and Baur earned first team All-Eastern Conference honors. Earning second team All-Eastern-Conference recognition were Evans, Gillespie and Rivera. Sophomores Megan Zartman, Maddy Koerper and Maeve Wydan earned third team All-Eastern Conference recognition. The Maidens won the Eastern Conference championship as well, defeating Souderton 13-2 in the final game to advance to states as the number one seed.
The state title was the program's second in as many years and seventh in the past 10 years. This was the Maidens' first undefeated season since 2006.
Earlier this season, the Maidens were the Beast of the East champions, defeating Upper Arlington of Ohio 10-5 to win the title for the first time since 2006. Upper Arlington went on to earn the Ohio state crown.
Seniors Aimee Baur and Erin O'Neill recently signed letters of intent to play water polo and swim at Saint Francis University. Assisting Grunmeier this season was Molly Robinson.