Pennridge coach Audrey Anderson will receive the 2018 W. Gene Davis Memorial Award as PSCA Coach of the Year in Class 4A. (Photo provided courtesy of Sharin Harbeck)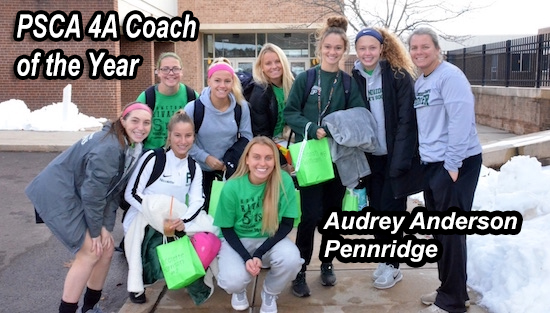 Pennridge has boasted a tradition of excellence under coach Audrey Anderson. Six SOL Continental Conference titles during her seven years at the helm speak for themselves.
The veteran coach's efforts have not gone unnoticed.
"All four years that I've had her, she's been nothing but wonderful," senior captain Mary Kate Levush said. "She's been a great coach to have.
"She really pushes you to be the best, and she has a lot of expectations, but that's because she knows we can get it done. I'm truly thankful that I've had her coach me all these years."
This year, Anderson led the Rams to the PIAA Class 4A state title game where they fell to rival Souderton 1-0 in overtime. Pennridge closed out the year with a 21-4-1 record, and Anderson was named the Coach of the Year in Class 4A by the Pennsylvania Soccer Coaches Association.
"I think she's been one of the main reasons this program has been so successful," senior captain Sarah Williams said of her coach. "She has so much experience, and she knows what to do in situations where the game is on the line. She knows how to make changes that will help us win a game.
"She really makes everyone want to work hard, and she makes us want to be a team, and ultimately, that's one of the main reasons we got to the state championship this year."
Anderson surpassed the prestigious 100-win plateau this season.
"She really invests herself in the sport, and she wants nothing but the best for her players," Levush said. "She pushes us to be our best.
"She's very straightforward in what she wants out of her players. She has high demands because she knows we have the ability to be able to produce that. She gives us an idea of what she wants us to do, and then she lets us figure it out as a team to be able to give the final product.
"She believes 100 percent in every team that she's coached, whether it be club or high school. I'm so thankful to have her. Truly I believe she has prepared us who are going to play in college."
Anderson will be recognized at the PSCA dinner on Jan. 26 in Harrisburg when she will receive the 2018 W. Gene Davis Memorial Award as Coach of the Year in the Class 4A classification.
"Everything she does is for the best interest of the team, and she wants each person individually to be the best they can be," Williams said. "Honestly, I would have been shocked if she didn't get coach of the year because she's the reason why we have such a great reputation throughout the state.
"People know Pennridge soccer, and that's because of the work she puts in behind the scenes. She's not the one that goes out on the field, but she's the one that makes us better at practices."