Morgan Scott's gold medal performance in the 200 freestyle highlighted day one of the SOL Class AAA championships Saturday. Photos provided courtesy of Kim Supko. Check back for a gallery of Saturday's action.
LEWISBURG - It was a good day for Morgan Scott.
The Pennridge senior had a successful title defense in the 200 freestyle, claiming the crown in 1:46.77.
"I wasn't expecting the nerves," Scott said. "I was so nervous. I don't know why.
"I think because it was different this year, it was a one-time shot so you're expecting to swim twice and see the field and see how it is. When it went to timed finals I was like 'Oh gosh, what do I do now?' but I just swam hard so it was a good thing.
I was thrilled with my time. I've been wanting to do a 1:46 for a while so that's a boost to my confidence."
She is seeded fourth in Sunday's 100 freestyle.
"This definitely gives me a lot of confidence for the 100," she said. "The top seed (Olivia Livingston of Gateway) is really fast so it's going to be a good race.
"I used to hate this race. My coach put me in this race and the first time I swam it I was like, 'I'm never swimming this again' and now it's my third year swimming it at states so I like it more obviously.
"I sprinted all my life and it's a lot different from that but you learn how to swim it, you train all year for it. I learned how to pace myself."
Teammate Erin Shema took 18th in the 100 butterfly (58.37).
Shema, Reese Trauger, Anna Beno and Scott finished 11th in the 200 freestyle relay (1:36.74).
North Penn had two medal winners in the 200 individual medley, as Kailyn Evans finished fifth (2:01.53) and Claudia Thamm was eighth (2:02.17). Megan Zartman finished 11th (2:04.80) in the same event for the Knights.
"Being first put a lot of pressure on me," said Evans, a senior. "All my family members were going to be watching, even some came up who usually don't come up so I had a lot of pressure on me which I feel affected my swim.
"I really wish I did have another chance. I feel that I would have made the finals and then I would be able to correct the mistakes and fix the minor things."
"I'm definitely looking ahead to the breaststroke now. There's no pressure, I feel like I can go out there and do really well.
"Our team is swimming well and I think diving is really going to help us score points. We've got four girls who made it to states and one seeded first (Paige Burrell) so they're going to score points for us."
Thamm also earned the sixth place medal in the 100 butterfly, finishing sixth (55.22).
Also for North Penn, Katelyn Harkrader, Kailyn Evans, Megan Zartman and Rosalinda Rivera took fourth in the 200 medley relay (1:44.34).
Abbie Amdor led the charge for Upper Dublin, taking third in the 200 freestyle (1:49.64). Teammate Jenna Johns was fifth in the 100 butterfly (54.89).
Also for the Cardinals, Jenna Johns, Aly Breslin, Rebecca Pendleton and Amdor snagged the bronze in the 200 medley relay (1:44.05).
Amdor, Elle Braun, Pendleton and Breslin were fourth in the 200 freestyle relay (1:35.70).
Braun finished 15th in the 200 freestyle (1:52.34) to round out the day for Upper Dublin.
Souderton's Hailey Freed, Emily Hodges, Jenny Rogers and KK Hershey finished sixth in the 200 medley relay (1:45.13) while In the 200 freestyle relay, Hodges, Freed, Hershey and Rogers took 12th (1:36.99).
Hodges finished 25th in the 200 individual medley (2:10.91).
Wissahickon's Carly Zlotnikoff took 12th in the200 freestyle (1:52.94).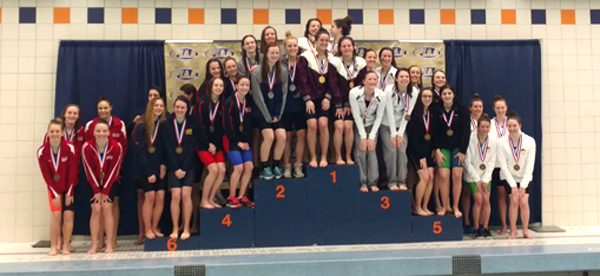 Central Bucks East took 15th in the 200 freestyle relay (1:37.71). Erin Lengel, Stephanie Chell, Sayde Shiroff and Kirsten Mortimer were the foursome.
In team scoring, Upper Dublin is in second place with 94 points and North Penn is sixth (74). Avon Grove is in first place (121).
The swimming part of the meet will end on Sunday. Girls diving will be held on Sunday, March 26 at 3 p.m. at Bucknell.