North Penn's Ariana Gardizy and Olivia Dyer as well as Upper Dublin's Ben Brugger are featured in this week's notebook. (North Penn photos provided. Photo of UD's Ben Brugger provided courtesy of Kathy Leister Photography.)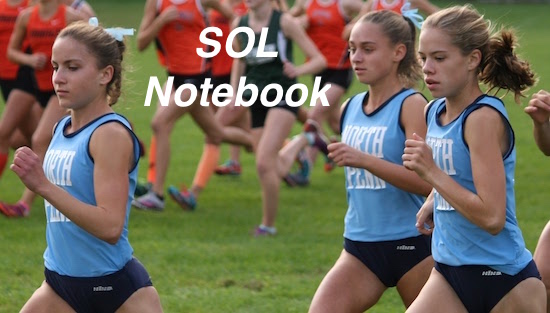 By DENNY DYROFF
North Penn's girls' cross country team has consistently been one of the top teams in District One for as long as anyone can remember.
And, the Knights always seem to have one or two standouts who propel the team to successful finishes in the Suburban One League Continental Conference, and District One -- and frequently at the state level.
Not surprisingly, the 2017 North Penn team has a pair of stellar seniors leading the way – Ariana Gardizy and Olivia Dyer.
"They've been top runners since ninth grade," said North Penn's veteran coach Jim Crawford. "Both of them are state medalists.
"Ariana was varsity as a ninth-grader and really improved between ninth and 10thgrades. She improved through hard work and dedication.
"And, she seems to be a natural runner. We'll be training and everyone will be huffing and puffing while Ariana is hardly breathing heavy."
Gardizy got introduced to running when she was quite young.
"Back in sixth grade, I started running with my CYO team at my church," said Gardizy. "My sister Anissa and I wanted to do a sport there so we decided to run.
"I started as a sprinter. I just liked running in general. I moved up to longer distances in middle school – the 800 and the 1,600. I never really ran cross country until high school.
"In my freshman year, I was the team's fourth or fifth runner. It was super competitive and I wasn't quite up with the top runners."
As a freshman, Gardizy placed 30that the conference meet and 120that the District One Class AAA Championships – both of which were held at Lehigh University's course.
As a sophomore, she was silver medalist at the Continental Conference meet, 12that districts and 21stat the PIAA Class AAA Championships.
"It was different in the summer training after my freshman year," said Gardizy. "I knew what I was doing. And, I had people to train and run with.
"I came into the season stronger. And, I knew what to expect. My goal was to beat my times and places from all my races in the previous year. My times and places kept improving.
"My junior year was good. We had a really strong team. We did a lot of great things as a team and won the league championship. I just wanted to keep improving."
And, that's just what she did.
Gardizy was the gold medalist at the Continental Conference Championships. She followed by winning a fourth-place medal the district meet and an eighth-place medal at the state championships in Hershey.
Crawford, who is now in his 43rdseason at North Penn's helm, said, "Ariana and Olivia are team captains this year. They're good leaders. They don't have to say a word because they are a great example to follow. They definitely lead by example."
Gardizy said, "Olivia and I figured we'd be the leaders and that gives us extra motivation. We like to lead by example – never giving up and always showing that hard work pays off.
"My summer training was basically the same this year. Now, it's about hard work, staying healthy and training smarter not harder. My goals are to keep improving and do well in post-season – and for us to make states as a team."
Gardizy also is a stellar track athlete and has competed a number of times at the Penn Relays at the University of Pennsylvania's Franklin Field. Next year, the Penn Relays will be a home meet for her.
"I just verbally committed to Penn this week," said Gardizy, who is a member of the National Honor Society, Student Council and the Key Club. "I'm not sure what major yet. My mom is a nurse so maybe I'll go into nursing.
"The only other official visit I took was to Boise State. I looked there because they have a good track program and I had never been out west. It's really beautiful country there. And, I got to see Boise State's blue football field."
This season, Gardizy has already won gold medals at three invitational meets – Six Flags, Abington and Council Rock.
In those same meets, Dyer placed seventh at Six Flags and seventh at Council Rock.
"Council Rock was the first invitational race Olivia finished in three weeks," said Crawford."She's had a rough fall with medical problems, allergies and medications. She went three weeks without finishing a race but she's coming back strong. I hope she's on her way."
Dyer said, "I prepared for this season the best I could and had some great training. But, I was iron deficient and got prescribed antibiotics – and they threw my system off.
"I had strong side effects in races. The antibiotics affected my ability to cool off. I couldn't sweat and, as a result, couldn't cool off. And, that was right when it really got hot.
"Fortunately, everything has stabilized. The first time I felt 100 percent was at the beginning of this week. Knowing that I can finish races is the most important thing."
As a freshman, Dyer was 15th at leagues and 78that districts. In her sophomore year, she placed sixth at the conference meet, 37that districts and 131stat states.
Last year, she won the bronze medal at the Continental Conference Championships, the 14th-place medal at districts and the medal for 22ndplace at states.
"In middle school, I did field hockey because that's what my mom did in high school," said Dyer.
Her mom, whose maiden name is Donna Bamberger, played her collegiate field hockey at Ursinus College.
"In seventh and eighth grade, I did track to stay in shape for field hockey," said Dyer. "In ninth grade, I had to decide between high school field hockey, ninth grade field hockey or cross country. On the first day of preseason, I decided to go with cross country.
"I just liked the idea of running. And, you can contribute to the team no matter where you are. My freshman year went really well.
"Then, in my sophomore year, I had trouble with my IT band. It was an overuse injury from increasing the intensity. It came on near the end of the season. I did physical therapy and it cleared up.
"When I was training for my junior year, I tried to incorporate a long run – run six days a week and do a long run on the seventh. I definitely saw an improvement.
"We went to states as a team. My motto was – I'm doing this for the team. I definitely think Ariana and I started to become team leaders last year. That helped us transition into being team captains this year."
Dyer also maintains a busy extracurricular schedule. She is in the National Honor Society, the class cabinet and the Key Club as well as being involved with the Girls Scouts outside of school.
"I think I want to major in biology or kinesiology," said Dyer. "Some of the schools I've been considering are Bucknell, Northeastern and Vermont. I prefer colder weather."
*****
Upper Dublin's Ben Brugger has become one of the top runners in the Suburban One League American Conference, which is impressive because this is only the second season he has run cross country for the
Cardinals.
"I did track as a freshman and sophomore," said Brugger. "I had a pretty good track season as a sophomore running the 800 and the 1,600.
"I made the adjustment of stepping up to 5K for cross country pretty easily. When I first started cross country, I thought that it would be a great way to stay in shape for spring track."
Upper Dublin coach Paul Vandegrift said, "I had seen Ben run sprung track and I was hoping he'd come out for cross country. So, I encouraged him to join the team.
"He didn't work particularly hard last year and was still pretty successful. He was smart enough to realize that if he worked hard this year, he could accomplish a lot. He's become a runner instead of somebody on the track."
Brugger said, "Last year when I started, I thought I'd be the sixth or seventh runner on the team. After the first race, I was first in the team. As the season went on, it got better. At the halfway point of the season, I got crazy with it."
Brugger improved enough during the season to win a sixth-place medal at the Suburban One League American Conference Championships and place 62ndat the District One Class AAA Championships.
"I ran a 16:30 at districts and just missed making states by a few places," said Brugger.
Vandegrift can only wonder how Brugger's season would have gone last year had the young runner applied himself during the summer.
"He missed work last summer and was still successful – successful enough to become our number one runner," said Vandegrift.
"This year, he realized – hey, I've got some talent here. If I put hard work in, I can be really successful."
Brugger said, "This summer, I was at most of the practices. I did seven miles a day Monday-Friday with the team and then ran on my own on the weekends."
Vandegrift said, "This year, Ben showed up over the summer and ran with the team. Last year, he didn't and the difference is obvious.
"It's just a matter of putting in the required mileage. It makes a difference. He's been lifting weights to get stronger. His success at Mill Street helped build his confidence."
Hard work has definitely paid off for the Cardinal senior.
"I was a lot stronger at the start of this season," said Brugger, who has been a member of the German Club at Upper Dublin. "My improvement is a combination of being stronger physically and better mentally.
"Last year, I was sixth at the Mill Street Run at 17:00. This year, I was fourth at 15:54. This season has gone well from an individual standpoint
"I was first in the big school race at the Bulldog Invitational. The Carlisle Invitational was a really competitive meet and I placed 10th. My time drops were crazy.
"My goals for this season -- obviously, making states. I want to be top three at the league meet and top 25 at districts. And, I want to keep watching my times drop."
Vandegrift said, "Paul's strong races this year have been building his confidence. He's aware that he's a legitimate contender in the league. And, he realizes that he can make states. The world is opening up for him."