Wissahickon and Central Bucks West are featured in this week's cross country notebook. (Photos provided courtesy of CB West and Wissahickon)
By DENNY DYROFF
If you were to make graphs of the performances from year-to-year of area high school cross country programs, most schools would be depicted as sine waves.
There is an ebb-and-flow with teams hitting peaks for a few years in a row followed by a low stretch for a couple seasons.
Some programs have waves that go fairly high and then fairly low – from being a state meet competitor to being an average team.
Occasionally, a team will see its line on the chart reach a lofty perch only to plummet the following seasons. A boys' team from Chester County won the state championship and the national title in 2006 and then struggled to field a solid seven-man varsity squad just two years later.
If you made charts of Wissahickon's boys' and girls' cross country programs, there would be no sine waves – just flat lines (or relatively flat lines). And, these lines would be on the positive side of the charts.
These lines would show the consistency found in both the boys' and the girls' squads.
The Trojans are rarely great and never bad. Instead, they are always good.
"We're consistent in the (Suburban One League) American Conference," said Wissahickon's veteran boys' coach Bill Gallagher.
"Out of the last nine years, we've won the championship seven or eight times. Last year, Cheltenham beat us. They had a really good team.
"Our team is successful because the kids work hard. They are all really well motivated. Their goal this year is top five at districts (PIAA District One Class AAA Championships)."
The Trojans showed their strength and depth as a team at the recent Bulldog Invitational at Rose Tree Park in Media.
They were the top team and they placed six runners in the top nine -- Ben Hoyer (first), Matt Maiale(second), Nathan Leung (third), Josh Chaiken (fifth), Sam Klugherz (seventh), and Aiden Marcelis (ninth).
Last weekend, Wissahickon travelled to Hershey and placed 12that the prestigious PIAA Foundation XC Invitational at Hershey Parkview Couse (the same course that will host the state championship races).
In other invitational meet action this season, the Trojans won the Bulldog Small School title and placed second at the Abington Invitational.
"This year, we have 10 seniors who have been on the team for four years," said Gallagher. "That's what makes this year special. All of them are leaders. Ben (Hoyer) and Matt (Maiale) are the running leaders.
"Ben really came into his own last Saturday at the Foundation meet when he finished fifth in a really challenging race. That was an impressive finish.
"Ben started out really well as a freshman and kept improving. This year, he came in much stronger than he ever had before.
"This year, he and some of the other seniors got very committed. They ran together and logged the results. They worked really hard and Ben was a leader at organizing it."
Hoyer, who was silver medalist at last year's American Conference Championships, said, "Me and Matt and Nathan (Leung) put together a training plan – 40-50 miles a week – and we stuck to it. We put in the miles and used an app called Strada to record it.
"As seniors, we're trying to incorporate the freshmen and sophomores into building up the team. A lot of what holds us together is going away to Camp Men-O-Lan together. It's a team-building activity. We run and bond as a team."
Hoyer, who has been running distance since middle school, finished in the Top 50 at districts last season and just missed qualifying for states as an individual by a few seconds.
"That was frustrating," said Hoyer. "I definitely want to go to states this year. The main goal is for us to go to states as a team. We're focused on finishing in the Top 5 at the district championships."
When Wissahickon leaves the friendly confines of the American Conference, the level of competition increases – as does the size of the schools they have to run against.
"That changes things," said Gallagher. "It's more difficult to compete. For example, North Penn has over 1,600 for grades 10-12 while Wissahickon's enrollment is just over 400."
Wissahickon's girls' team faces an extra challenge in attracting athletes from a school with a relatively small enrollment – other fall sports at the school.
For boys, there is football, soccer, golf and water polo to go along with cross country.
At the same time, Wissahickon's girls' cross country team has to compete with not only soccer and golf but also with programs that are traditionally strong for the Trojans – field hockey, soccer, tennis and volleyball.
"Our numbers are pretty good," said Wissahickon girls' coach Heidi Butt. "It's usually around 30 but it's in the low 20s this year. We have big sophomore and junior classes and small senior and freshman classes.
"We always have enough runners to field teams in novice, junior varsity and varsity races at invitational meets. I like that flexibility. But, our type of team is not suited for districts.
"We do have a relatively small student body and there are a lot of good programs for athletes to choose from. We really saw a difference a few years ago when the PIAA moved girls' soccer from the spring to the fall. That was the year I came on."
Like the boys' team, Wissahickon's girls' squad is a model of consistency. The Trojans' line on the graph would also be flat – a little lower on the axis than the boys but still in the positive zone.
"In the 10 years I've been heads coach, we finished second to Upper Dublin every time – except for last year when we were third behind Upper Dublin and Hatboro Horsham," Butt said. "Our girls work hard every day. They've been impressing me this year – especially on hard days. They make the decision to really challenge themselves.
"You have to give credit to my older girls. We have four seniors, but right now Hayley Ross and Abby Butt are our only running seniors."
At the Bulldog Cross Country Invitational, Wissahickon's girls dominated the Small School Race, scoring 39 to runner-up Berks Catholic's 81.
The Trojans put all seven runners in the top 14 -- Maddy Hippensteal (second), Hayley Ross (fourth), Ainsley Olszewski (10th), Logan Weber (11th), Katie Harbold (12th), Naomi Bram (13th), and Tara Jog (14th).
Ross has been leading the way for the Trojans.
"I started running when I was younger," said Ross. "I was a sprinter. In seventh grade, I started doing distance to build up my strength and endurance – to get in shape.
"After that, I shifted to distance from sprints. It's more competitive and you have a longer period of time in a race to adjust.
"And, I really liked the team atmosphere with Wissahickon cross country. Everyone was really close – more connected. Everybody suffered together. It was more of a family atmosphere."
Ross is this year's team captain.
"It helps at being captain when you're with a team like this," said Ross, who is a member of the National Honor Society and the Health Careers Club.
"Everybody on our team is really supportive of each other. We work well together – and we push each other. When I joined as a freshman, I felt the support immediately.
"Our team has been consistent from season-to-season. Our end goal is to win. That helps us push each other."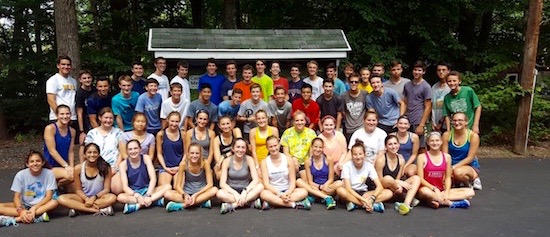 *****
If there were a graph for the Central Bucks West boys' team, it would show an impressive climb upward that started a while ago and then a leveled off on a very high plateau.
"We have an undefeated dual meet win streak that started in 2013," said West coach Greg Wetzel. "It now stands at 25 wins in a row."
The Bucks have looked very strong at keeping the streak alive this season – especially with a 27-29 win at perennially strong North Penn last week.
"The last time we lost a dual meet was at North Penn," said Wetzel. "This year, we were able to sneak by. We were definitely concerned heading into the meet. We were on high alert. Our boys stepped up and got the job done.
"Riley Warren, a senior, was our unsung hero. He'd made significant time drops three meets in a row. Then against North Penn, he was our sixth runner and he finished ahead of North Penn's fifth."
On Wednesday, West posted dual meet wins over Pennridge and Souderton to lift its conference record to 5-0 – the same record as archrival Central Bucks East.
The showdown between the Central Bucks powerhouses will take place next Wednesday on the Bucks' Lake Galena course at Peace Valley Park.
West is three-time defending Continental Conference champion. In the same time span, the Bucks have placed second at the District One Class AAA Championships once and third twice. At the state meet, West was sixth in 2014, third in 2015 and ninth in 2016.
"There is always the expectation of success," said Wetzel. "But, our team this year has 15 new kids who have no idea about the tradition. The seniors are not only the main guys – they also have to impress this sense of culture on the kids."
West's Ben Bunch leads a trio of talented and reliable seniors – a trio that also features Brian Baker and Michael Samson.
"Michael has been running pretty well," said Wetzel. "He finished first at the Souderton Twilight Invitational and fifth at the Council Rock North Invitational.
"Brian was hurt back in August," said Wetzel. "He had exploratory surgery on his ankle but now he's healthy again. He's been coming on strong.
"Ben has been real consistent. He's a great leader. We went from being a five-flat miler as a freshman into cross country the following fall and made an immediate impact in cross country."