Swimmers/divers from William Tennent, CB West & Plymouth Whitemarsh are featured in this week's notebook.
National Conference
Nina Lombardi, William Tennent
Nina Lombardi began diving by watching some future standouts.

"When I was about seven years old, I saw some people at my summer swim club diving," said Lombardi, a sophomore at William Tennent who also swims.
Some of those people included two future standouts, Gaby Rudinski, who went on to dive at Hatboro-Horsham, and former Tennent great Ian Forlini, now in his senior year at Georgia.
"I watched them and thought it looked like so much fun so I tried it and fell in love with it," Lombardi said. "It was an amazingly good choice for me."
Last year Lombardi, then a freshman, reached the semifinals of the District One Class 3A competition, finishing 29th (159.55 points).
"That was a lot of fun and a really great experience," she said. "There were so many amazing divers and it was a great competition. I was surprised I made it as far as I did.
"This year I want to go back to districts and get farther than I did last year. I would love to go to states."
She also has her eye on the school record, owned by former standout Amanda Burke. Burke had a stellar diving career that included multiple international competitions, three Olympic Trials and the 2011 national championship on one-meter springboard.
"I'd really like to get one of her records," Lombardi said. "I know it's going to be tough, but I'm going to try."
When she isn't poolside, Lombardi can be found playing field hockey. She is also a member of student government, the athletic council and she is the treasurer for the Class of 2020.
Continental Conference
Gabe Wingert, CB West
The Central Bucks West boys team has changed a lot, and junior Gabe Wingert likes what he sees.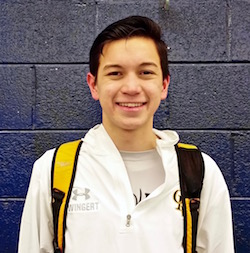 "We lost a lot of the core guys from last year's team and we miss them and it's going to be a lot different this year," Wingert said. "But at the same time we've got a lot of breaststrokers and a lot of hard working freshmen.
"In general I think it's going to be a tough year without the guys we graduated but at the same time we're looking to a better future. We have really good depth and I think we can pull it off."
He is the son of former Neshaminy swimmer Gene Wingert.
"Definitely my dad got me interested in swimming," he said. "It is more of an individual sport but I love the team aspect of it. When the team comes together, it's a lot of fun."
Last season he went to the PIAA championship meet as a relay alternate.
"That was a phenomenal experience," he said. "I had a great time and it was really motivating to see how insanely fast the times were there. That was a crucial moment for me and I really want to get back there and actually swim.
"I'd also like to push some other guys so we can get to states with a relay. I want to make it to districts in multiple events. I have a lot I want to accomplish."
The council president of the junior class, he would like to enter the medical field.
"Right now my top choices are Johns Hopkins and Brown," he said. "I'm looking at science schools because I'd like to major in chemistry.
"I'm focused on swimming well and keeping my grades up. If I can do those things, I think everything will fall into place for me."
American Conference
Abigail Thomas, Plymouth-Whitemarsh
Abigail Thomas' swimming career started off with her not able to swim a lap.
Now, the junior at Plymouth Whitemarsh can swim quite a few of them.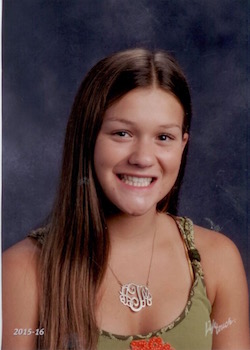 "Swimming was a family thing for us," she said. "My mom swam and all my sisters swam but I couldn't do a lap so I just watched."
Eventually that changed and Thomas went from a spectator to a competitor. Although she flirted with other strokes, she was always a freestyler and distance became her milieu.
"I always did distance," she said. "I was never a sprinter, and freestyle just stuck so here I am."
She has high hopes for the Colonials this year.
"I'd like to see us get in the top three at Suburbans this year," she said. "And I'd like to see us get some girls to districts who haven't been there yet.
"For myself, I want to go below 5:15 in the 500 and 1:58 in the 200 and I'd love to go to states. I think all of those goals are do-able."
She plans to swim in college and would like to major in business and marketing with a minor in real estate.
"It's time for me to get really serious about getting my times to drop for college," she said. "I'm looking at a lot of schools in the Patriot League and some Division III schools with good academics."
She is a member of the National Honor Society, the Steering Committee and Mock Trial.