Swimmers/divers from Neshaminy, Central Bucks South & Upper Dublin are featured in this week's notebook.
National Conference
Michael Kalika, Neshaminy
Michael Kalika wants to make his final season as a Neshaminy swimmer his best.

"I have some goals for myself and some goals for our team," he said. "For myself, I want to make it to districts in either the 100 back or 100 fly. I feel like I'm where I need to be to make the automatic cut times.
"For our team, I'd like to get a relay out. Our 200 medley relay made consideration times and we're a second off from the automatic so I think we can get it. That's the one I'm eying for us. There's still a lot of the season in front of us. We each dropped about .3 seconds so we're where we need to be."
He is excited for the remainder of the dual meet season.
"We've already won a meet against Springfield (Montco) and they have some good swimmers so that was a big win for us," he said. "We've really been trying to build up the program and it is getting better and better."
He would like to major in business or business finance and is considering Temple, Drexel, Villanova and Penn State.
"I'm looking at swimming in college but realistically I'll probably swim club because college swimming is a huge commitment and I want to focus on academics," he said.
In addition to swimming, he is a member of the chess club at Neshaminy. He is also in the National Honor Society.
Continental Conference
Dan Cohen, CB South
Dan Cohen originally went out for the swim team at Central Bucks South.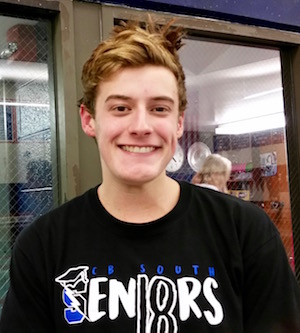 But diving caught his eye.
"I just thought I'd give it a shot," said Cohen, a senior. "Now it's tough to decide if I'm more of a diver or a swimmer. That's the toughest question and honestly at times I'm both, depending on the meet."
As a swimmer, he mainly swims butterfly and freestyle.
"It's definitely a stretch to do both," he said. "I split practices half and half. It's hard only getting to do each for half the time but I try to make it work and do my best in both.
"I love both in such different ways because they're such different sports. They're both in the water but that's where the similarity stops."
A senior, he began diving as a sophomore. At last year's District One Class 3A competition he finished 19th with a score of 267.85 points.
He is the student council president and is in his second year of the varsity mock trial.
He is in the process of applying to colleges. Right now his top choices are Penn State, Johns Hopkins and Cornell. He is considering several majors.
"I'm thinking biology because last year I took AP bio and really loved it so I'd like to stick with that but I also like English a lot," he said. "I'm thinking I might go for a double major and maybe being a lawyer."
American Conference
Liz Medvedev, Upper Dublin
Liz Medvedev is pretty unique.

The Upper Dublin junior balanced swimming with wrestling. Not only was she a female wrestler, but making it even more challenging was the fact that both sports are in the winter.
"I liked wrestling," she said. "It was different. But in the end, I had to stop wrestling because it was the same time as swimming and swimming is too much of a commitment."
Her individual events are an unusual pairing. Medvedev swims the 500-yard freestyle and the 100 breaststroke. What makes that difficult is that both events are late in the meet and the 500 free is the longest distance in high school swimming.
"I know that's odd and I don't have a lot of recovery time between the 500 and the breaststroke but that's what I do," she said. "I'd like to make districts in both of those events."
She has high hopes for the Cardinals.
"Last year was a big success and we'd like to top that," she said. "Our team has never been better. We're well rounded and everyone works so hard.
"As an upperclassman, my goal is to really step up and be a leader on this team. I've found that my times don't mean as much to me as making a difference on the team does so my goal is to just do that, to make a difference."
She would like to swim in college and is interested in Drexel, where her father Georgi is a professor in the mathematics department. She hasn't chosen a major but is considering economics or a business related major.
She is a member of the student government at Upper Dublin.