Denny Dyroff recaps Council Rock North's state championship performance in the final notebook of the year. (Photos provided courtesy of Council Rock North cross country.)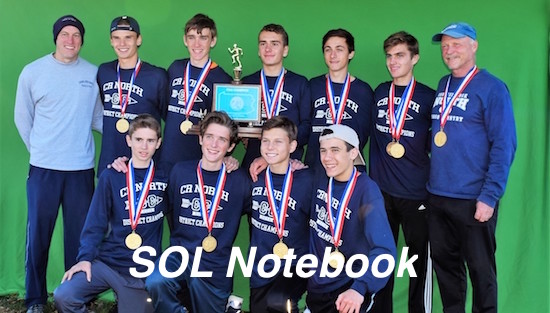 By DENNY DYROFF
On the first Saturday in November, the runners from the Council Rock North cross country team jubilantly lifted an impressive team championship trophy over their heads – for the second week in a row.
The Indians were in Hershey – the site of the PIAA Class AAA Cross Country Championships. The Rock North boys won the state title with 76 points. Carlisle was runner-up with 118 with by Downingtown West (158), Seneca Valley (202) and La Salle (204) rounding out the top five. District 1 claimed five of the top 10 spots with West Chester Henderson in eighth at 247, Central Bucks West close behind in ninth with 249 and Lower Merion 10th at 264.
Impressively, Council Rock North placed all five scorers in the top 25 of the team scoring.
Ryan Campbell placed fourth in the team scoring and seventh overall followed by Bryan Keller (14th, team; 23rdoverall), Sam Earley (16th; 25th) Tim Haas (17th; 26th), and Ethan Koza (25th; 43rd). North's non-scoring finishers were Kevin Ehrgott (64th, team) and Matt Mullen (93rd,team).
"Our kids worked hard for this and they pulled it off," said long-time Council Rock North coach Dave Marrington. "They ran well. They're pretty happy with what they've done.
"We had a meeting back in June and they all wrote their personal and team goals. To a man, they said they wanted to win the state championship. The way they ran – they exceeded everything that was expected
At the previous week's 2016 District 1 Class AAA Cross Country Championships, all five Rock North scorers placed in the top 21 -- Campbell (third), Haas (seventh), Keller (ninth), Earley (13th) and Koza (21st). The Indians won the meet by more than 100 points.
"We set new goals after districts this year," said Marrington. "We had 22 kids run at districts – varsity and junior varsity – and all of them got personal records. There's something beyond normal about that."
At this year's state meet, Campbell finished seventh with a time of 16:01 – one second off the pace of Souderton's Connor McMenamin, who was sixth at 16:00. Ironically, McMenamin finished one place and one second behind McMenamin in at last year's state championship race at Hershey.
"Connor and I weren't really running together this year," said Campbell. "I just came close to him at the finish. I thought I'd catch him but then I ran out of room.
"My first mile was the same as usual – 4:55. I was 19that the mile. I knew the second mile was hilly so I just tried to run a steady pace. The third mile – that's when I really started to pick off people."
Keller said, "I had a pretty good race. I got a state medal – so I'm happy."
The top 25 finishers in the race receive a state medal.
"The best part of my race was the third mile," said Keller. "I was just outside the top 25 and had to pass a lot of guys to get a medal. I passed six or seven in the last 800. It was one of my better races.
"Actually, the best part was near the end when I saw all my teammates together and how well we did as a team. Winning states was a goal we had since the end of last year because we knew we would have most of our varsity back. Having a goal like that and achieving it is awesome."
The third Rock North runner to return from Hershey with two state medals was Earley – a team medal and an individual medal. Earley claimed the 25th– and final – state medal position.
"I did well," said Earley. "I worked hard on all the difficult hills that Hershey is famous for. I was racing with Carlisle's Isaac Kole and was with him until the last hill. Then, he had an extra gear. I worked really hard in the last 1000. It was the race I kicked the hardest all year."
The season is not over for the Council Rock North team. Next in line is the NXN Northeast Regionals on November 26 at Bowdoin Park in Wappingers Falls, New York.
"We're going to the Nike Regionals on the Saturday after Thanksgiving," said Marrington. "The kids all wanted to keep the season going and run at regionals. And, the top two finishers in New York qualify for the Nike Nationals in Oregon."
The only other state meet medalists from the Suburban One League on the boys' side were Neshaminy's Rusty Kudych, who finished 10thand Pennsbury's Eric Kersten, who placed 18th, and, on the girls' side, North Penn's Ariana Gardizy, who placed ninth overall, and Olivia Dyer, who finished 22nd. North Penn's girls finished fifth in the team standings.