Several SOL teams kicked off the season at the Central Bucks East Relay Carnival on Friday. Check out the recap.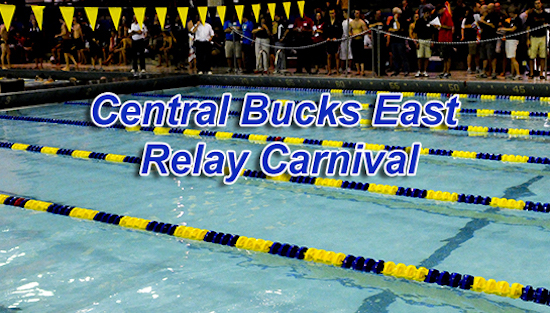 The swim season got off to a fast and fun start at the 45th annual Central Bucks East Relay Carnival, hosted by Central Bucks East.
The Patriots got their fair share of victories.
For the girls, Sophie Moyer, Giuliana Ruscio, Grace Hamilton and Maggie Young won the 200-yard medley relay in 1:44.64.
Stephanie Chell, Abby Kerns, Caroline Cassidy and Sayde Shiroff won the 400 individual medley relay for CB East (4:20.36) while. Madison MacLean, Chell, Cassidy and Shiroff won the 200 medley relay (1:55.53).
Vitalina Mikhalev, Hamilton, Alexandra Smallwood and Cassidy teamed up to win the 200 butterfly relay (1:54.89) and the Patriots capped off the night with a win in the 500 freestyle crescendo relay. Ruscio, Shiroff, Young, Chell and Moyer were the team members (4:52.23).
"This one's really fun," said Chell, a senior captain. "Especially getting to host it; that's very special to us. Getting to see CB West and CB South is really fun and also getting to see some teams that aren't in our league like Radnor and Archbishop Wood is nice.
"You like to race people that you normally wouldn't get a chance to race and it's really exciting to swim events that are different from what you do every day.
"I think we did really well. Our freshmen did really awesome and our sophomores really stepped up so I think all four classes had a presence and it was really exciting to see that going forward into the season and I'm really excited to see what we can do."
For the CB East boys, Jorge Cervantes, Tommy Krystkiewicz, Connor Lenahan and Mike Scarpitta won the 200 butterfly relay (1:46.00) and Jackson Green, Dean King, Lenahan, Scarpitta and White won the 500 freestyle crescendo relay (4:23.80).
Hatboro-Horsham also had a good meet.
Zach Mignogna, Conor Eimer, Andrew McPoyle and John Scully teamed up to win the boys 400 individual medley relay (3:58.26).
Scully, EImer, Mignogna and Luke Emig won the 200 medley relay (1:41.35) and Scully, Pearse Stephens, Eric Thron and Emig won the 200 backstroke relay (1:44.46).
For the girls, Arielle Hammer, Grace Fink, Ciera Schulcz and Becca Rudnitsky won the 200 backstroke relay (2:02.06) and Sheila Fisher, Ali Schmidt, Kayla Ji and Cierra Joyce won the 200 breaststroke relay (2:18.99).
"This is my favorite meet of the year," said Schmidt, a senior. "It's so much fun. We get to have so many people participate. It's such a great time and the team really bonds over it. There's such great energy and everyone really gets into cheering.
"There's a lot of events at this meet that you don't usually get to swim, like the backstroke relay, and they're fun to do. Usually we have so many people and that's something we take pride in, but everyone doesn't always get to swim as much as they'd like so at an event like this everyone gets in.
"You get to swim with your friends in your favorite events, the events you practice every day. In a meet you're split up but here you all get to swim together.
"We lost some key seniors from last year so we were a little nervous but we've been working hard and I think that really showed here. We swam well against good competition."
Central Bucks South's Tom Khayt, Dan Pohl, Josh Hiltpold and Caleb Matsick won the boys 200 breaststroke relay (2:01.62).
The Titans also swept diving. Dan Cohen and Jack Bowen won boys diving with 371.95 points while Vita Shabalow and Alexandra Charlton took the girls title (417.10).
"This was my first time doing this event and I thought it was a good time overall," said Bowen, a sophomore. "It was fun, but a bit stressful. It was my first meet ever.
"I was originally a swimmer but I thought diving looked like fun so I tried and once I did that I didn't want to go back. I've been to East relays before as a spectator but this was the first one I was in and it was great."
Central Bucks West rounded out the night win a victory in the boys 200 freestyle relay. Ryan Stack, Max Shachuk, Cameron Wallace and Connor Levant were the winning foursome (1:38.66).