Glenn Kaiser recaps Zack Trampe's gold medal performance and highlights the top showings at the PIAA AAA Championships. Photos privided by Sharon Shipe Photography...CLICK HERE to go directly to her gallery.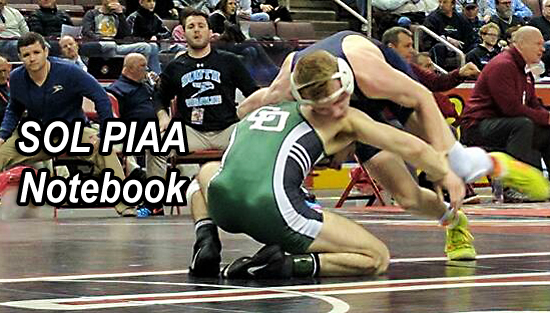 TRAMPE METHODICAL IN 2017
Council Rock South Senior Captures Gold
Go ahead and look it up, and you'll find the description of Zack Trampe's wrestling season this year for the Golden Hawks - methodical. He was workmanlike and businesslike as he dismantled the field in the 132-pound weight class all season long. He definitely had a plan this year. He was organized and systematic in obtaining his goal and dream of winning a state title. But what shined the most was his efficiency and disciplined approach to success. He outworked everyone on their feet and owned the third period, and the reward was handed to him atop the podium after a grueling three-day PIAA AAA Individual Championship in Hershey, PA, at the Giant Center.
Trampe did it in the finals, avenging his only loss of the season when he downed Jimmy Hoffman of Hazelton to win 4-2 Saturday night. Trampe - who is no stranger to the finals or the podium in Chocolate Town, USA, as he was second in 2015 and sixth a year ago - won his first title out of the third seed. This was the first time in PIAA history that the five regional champions were seeded with the other wrestlers placed in the bracket based on a formula devised to accommodate the top five being seeded.
Trampe, back in the day as a young high school wrestler, seemed frustrated at times and was extremely tough on himself despite his tremendous talent and success. Just like fine wine, Trampe grew into the champion that he is with hard work, good coaching, and a lot of heart. Trampe was tested early in his first round match with Jobe Chisko (Penn Trafford) but was victorious 9-2. He secured a fall over Kolby Ho from Dubois in the quarters, and majored Andrew Wert (Central Dauphin) in the semis 10-2 on his was to the title tilt. Once he reached the finals, he knew the first takedown would be key, and it was as he secured it and went on to win 4-2.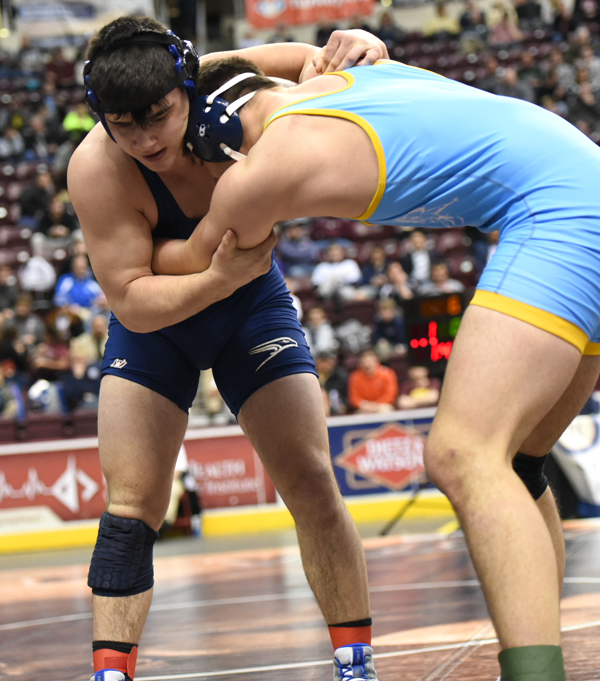 Council Rock South finished sixth in the team race, as Joe Doyle captured the bronze medal at 220-pounds. Doyle would have preferred a rematch in the finals against Brian Kennerly of Upper Darby but was thwarted by Ian Edenfield, the Southwest champ from Laurel Highlands, in the semifinals, dropping a 6-2 decision as he was unable to score on his feet or from the top position where he has been outstanding all season. Kennerly went on to win the title, but Doyle kept his composure, securing falls in both the consi-semis and consi-finals to place third. Doyle will join Trampe to wrestle at Binghamton University next year.
Max Mendez (106), Cary Palmer (138), and Riley Palmer (145) all won bouts in Hershey for the Golden Hawks to help with the team standings. Riley Palmer suffered a heartbreaking loss to Penncrest's Ryan Stocku when Stocku did not continue after a called slam, costing Riley a medal. Trampe's title gave head coach Brad Silimperi his eighth individual state champion.
Pennridge's title hopes for both Matt Parker (120) and Josh Stillings (160) were not fulfilled, as Parker was upset in the semifinals by Luke Werner of Bethlehem Liberty 10-7. Parker, who will attend Lehigh in the fall, then won two tight matches in a row in an extremely talented weight class to take home the bronze medal after finishing second a year ago. Stillings
reached the finals for the Rams with an outstanding tournament, keeping himself in great position throughout. However, he could not figure out a way to score a takedown on Mifflin County's undefeated Trent Hidlay, who hit an early ankle pick on Stillings to post a 5-3 decision in the 160-pound title tilt. Both wrestlers are juniors, thus look for this rivalry to continue next year should they both stay at the same weight class. Parker and Stillings alone put Pennridge in the top twenty in the team standings with a 13th place finish.
Council Rock North's freshmen phenom, Luke Lucerne was edged 2-1 in the semifinals at 106-pounds by Ryan Sullivan (Shaler), but completed his first year on the podium with a sixth place finish. North Penn's Colin Shannon grabbed a medal in his third trip to Hershey, placing sixthh as well after suffering a loss in his semifinal match to eventual champ at 152 Cameron Coy (Penn Trafford) 17-6.
Colin Stevens (Central Bucks East) used a late toss on Spring-Ford's Chase Smith for a pin to advance Thursday night and rode that momentum to an eighth place finish. Stevens lost his preliminary match 6-0 to Cedar Cliff's Emerson Wentz. Stevens then won three straight matches before being bumped to the seventh place medal match by District One nemesis Elijah Jones (Boyertown).
PIAA AAA Notes: The SOL finished the tournament with two of the four District One finalists, with Trampe bringing home the gold as one of three District One Champions. Nineteen D1 wrestlers medaled and seven of them were from the SOL. Exeter's Austin DeSanto arguably won the greatest match in PIAA history, upsetting previously undefeated Spencer Lee (Franklin Regional) a three-time PIAA Champion and three-time Cadet and Junior World Champion with an exciting 6-5 victory. DeSanto dropped from 132 to 126 to get a rematch with Lee after suffering a tech fall last year in the finals to him. DeSanto finished the season at 53-0 as he was named the tournament's Outstanding Wrestler. DeSanto scored three takedowns in the third period, the final one coming after he let Lee up with just 23 seconds left on the clock, and notched the winning takedown at the buzzer.