Ben Reese recaps all the action in Thursday's Lower Moreland/Upper Dublin SHSHL ice hockey game that saw Noah Gazzara make a successful debut in goal.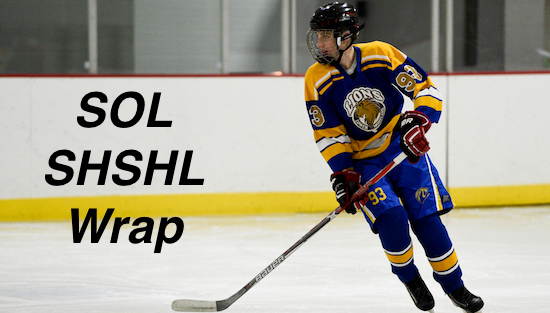 By Ben Reese
HATFIELD -- Lower Moreland ice hockey coach Anthony D'Orazio knew he had a problem going into Thursday night's game against Upper Dublin.
He didn't have a goalie. His regular goalie was at a concert, using tickets he had bought last summer.
So D'Orazio asked for volunteers. And, like the Army, no one raised their hand -- until freshman Noah Gazzara said he would give it a try.
You have to realize that Gazzara had never, ever played goalie on ice in his young life. But he swallowed hard and said he would do it.
Watching him play against the Flying Cardinals and beat -- that's right, beat -- them, it certainly didn't appear that he had never been in goal. He kicked away 22 of 29 shots in the 10-7 victory for the Lions and looked good doing it.
"He played his heart out," said D'Orazio. "He really gave us a lift when we needed it, shorthanded as we were.
"He's a hero. He's going to go down in legend at Lower Moreland hockey.
"He steps in his first time ever and wins the game. A couple of goals weren't even his fault. It was just lax defense."
Now, to be fair, Gazzara has played goalie before. But it was in roller hockey and it has been several years since that happened.
Gazarra, a man of few words, was asked how he felt going into the game.
"Nervous," he said.
When did it dawn on you what was going on?
"Halfway through the game," he said.
Gazarra had the benefit of a strong defensive performance by the Lions. In the first period, which was probably Gazarra's toughest because it was the first, Upper Dublin got off only three shots on goal.
"Our defense in the first period was superb," D'Orazio said. "They really rallied around him."
Gazzara was very appreciative of the help he got from his back liners.
"They kept the puck outside," he said. "They didn't let them get in the slot which was very helpful.
"They kept it easy on me. That really helped throughout the game."
Upper Dublin coach Anthony Richichi was disappointed in his team.
"Our guys didn't follow our game plan," he said. "They didn't skate.
"We knew that they were shorthanded. We talked about taking the body; we talked about skating the puck. Our guys just weren't doing it."
The game was a big one for both teams. They both have hopes of reaching the playoffs in the A division of the Suburban High School Hockey League.
"This helps a lot," said D'Orazio of the win. "We have Hatboro tomorrow and I think if we win tomorrow we're in really good shape. I want to win all out, the last three we have, and then I think we'll be good."
Richichi thought his team's playoff hopes might have died.
"Honestly, I think that might have been the nail in the coffin," he said. "We have only one league game left and they have three.
"We were really hoping to expand our lead today to six points to make it real difficult. We really laid an egg."
For Gazzara and the rest of the Lions, the game started off well. The Cardinals didn't get many shots on net, and Devin Green provided Lower Moreland with a 1-0 lead.
However, that lead didn't last long, though it did survive through the first period. With only 23 seconds gone in the second period, Ari Nordlinger tied the score for the Cardinals.
With 1:48 elapsed in the period, Seth Lerner's goal gave Upper Dublin a 2-1 lead. And then things got really crazy.
In the space of 59 seconds, four goals were scored, three by the Lions and one by the Cardinals to make the score 4-3. Campbell Manin (Adam Bostock assist), Brennan Bostock (AJ D'Orazio assist) and Coleman Peppelman each scored for the Lions. Oren Serafin (Nordlinger assist) accounted for the Cards' goal.
That was the last Upper Dublin goal in the period while Lower Moreland added four more to its tally – one each from D'Orazio, Manin, Peppelman and Ada, Bostock - to take an 8-3 lead into the final period.
After a Cardinal goal cut the lead to 8-4, the Lions scored two goals for a 10-4 lead. The final tallies in the game belonged to Upper Dublin, three to be exact, but they weren't enough to stave off the defeat.
In the end, Lower Moreland took 43 shots on goal and Upper Dublin 29. Peppelman led the Lions with four goals and an assist while D'Orazio (one goal, two assists) and Adam Bostock (one goal two assists) each had three-point nights. Nordlinger came up big for the Cardinals, finishing with four goals and one assist while Serafin had two goals and one assist.
When asked about the game against Hatboro, D'Orazio said, "I'll have my regular goalie tomorrow.
"But now I have a back-up. I'll have a goalie controversy, the first time in Lower Moreland hockey history."
Oh, what about Gazzara? Does he want to get back in the net?
"Maybe," was his answer.
Lower Moreland 10, Upper Dublin 7
Lower Moreland 1 7 2 – 10
Upper Dublin 0 3 4 – 7
First period: 1, Devin Green LM (Simon Gratkowski) 4:31.
Second period: 2, Ari Nordlinger UD (Oren Serafin) 0:23; 3, Seth Lerner UD (D.J. Giammaruti) 1:48; 4, Campbell Manin LM (Adam Bostock) 2:01; 5, Brennan Bostock LM (A.J. D'Orazio) 2:20; 6, Coleman Peppelman LM (unassisted) 2:50; 7, Serafin UD (Nordlinger) 3:00; 8, D'Orazio LM (Manin, A. Bostock) 5:06; 9, Manin LM (Peppelman, Art Rubinshteyn) 9:08; 10, Peppelman LM (unassisted) 12:55; 11, A. Bostock LM (D'Orazio) 14:52.
Third period: 12, Serafin UD (unassisted) 3:05; 13, Peppelman LM (unassisted) 6:32; 14, Peppelman LM (unassisted) 8:50 SH; 15, Nordlinger UD (unassisted) 14:16; 16, Nordlinger UD (unassisted) 14:31; 17, Nordlinger UD (unassisted) 15:36.
Shots: LM 43, UD 29. Saves: Noah Gazzara (LM) 21; Steve Sanders (UD) 33.
Wednesday, Jan. 31
WISSAHICKON 11, NEW HOPE-SOLEBURY 1
Sean Garry scored three goals and assisted on three others for six points while his brother, Bryan Garry, had a four-point night with two goals and two assists to lead the Trojans to the convincing win.
Sean Garry (Bryan Garry assist) put the Trojans on the scoreboard just over three minutes into the game. It marked he beginning of a three-goal tear in a span of 90 seconds that included a pair of Alex Carozza goals – the first with a Calle Kuffner assist. The Trojans reeled off four more goals before the period was over – one each from Nolan Piatkowski, Sean Garry, Bryan Garry and Alex Myhrman – to go on top 7-0.
Garrett Hoffman (Vincent Vetrano) put the Lions on the board just over a minute into the second period. It was the Lions' last hurrah as the Trojans closed out the period and the game with goals from Sean Garry, Bryan Garry, Kuffner and Matt Cade.
Wissahickon 7-4-0 11
New Hope-Solebury 0-1-0 1
First period: 1, Sean Garry W (Bryan Garry) 3:12; 2, Alex Carozza W (Calle Kuffner) 3:58; 3, Alex Carrozza W, 4:47; 4, Nolan Piatkowski W (Matt Cade) 8:06; 5, Sean Garry W (Matt Cade) 8:34; 6, Bryan Garry W (Sean Garry) 14:32; 7, Alex Myhrman W, 15:56.
Second period: 8, Garrett Hoffman NHS (Vincent Vetrano) 1:08; 9, Sean Garry W (Bryan Garry) 3:38; 10, Bryan Garry W (Sean Garry) 6:26; 11, Calle Kufner W (Sean Garry/Alex Myrhman) 6:47; 12, Matt Cade (Nolan Piatkowski) 11:30.