Glenn Kaiser recaps the action at last weekend's Southeast Regional and highlights all the SOL wrestlers who advanced to Hershey in each weight class.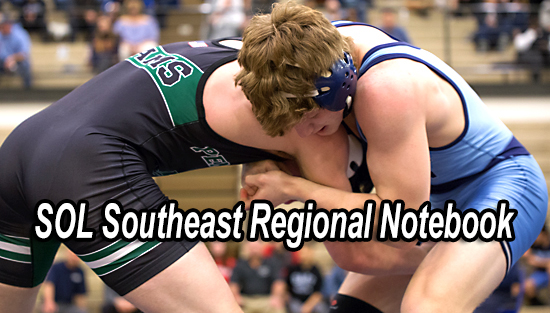 WILD DAY(S) AT SE REGIONAL
By Glenn Kaiser
The already long trip to Oxford High School for the Southeast Regional got a little longer this past weekend as a Nor'easter postponed Friday night's scheduled action, and Saturday's wrestling was non-stop. However, despite completing all the final matches, several matches for third and fifth place needed to be wrestled Sunday morning. Actually, 12 matches in all were held on Sunday.
The good news for SOL wrestlers was that many qualified for the 2017-18 PIAA Individual Championships this coming Thursday, March 8, through Saturday, March 10, 2018, at the Giant Center in Hershey, PA. And don't look for the trip to Hershey this week to be any easier, as another Nor'easter is threatening the Delaware Valley mid-week. No matter what, SOL coaches and wrestlers will make the trip to Chocolate Town, USA, to complete their journey to fulfill dreams and meet their destiny. They'll get there, even if they have to borrow an Iditarod dog and sled team to get them there.
The great news is SOL wrestlers dominated the finals at the Southeast Regional, capturing eight individual titles in all. Council Rock South won the team title handily with 141 points, followed by sister school Council Rock North (79.5 points) in second place in the team standings. North Penn finished in the top 10 as well with 52 points tied for 8th with Boyertown. Half the finalists were SOL grapplers with 14 total. The weather forecast in Hershey may be snow by the meteorologists, but heavy medals are the forecast for SOL wrestlers.
Twenty-nine out of the 70 state qualifiers will be representing the SOL in Hershey in the AAA Individual Championships that kicks-off Thursday at 4:00pm. Now to the results.
106-pounds: Council Rock South wrestlers captured the first two weight classes as Kyle Waterman returned to the finals for the third straight week at 106-pounds and was dominant, winning the title with a 10-2 major decision over Pope John Paul II freshman Matt Vulakh. Waterman was denied a title by Kyle Hauserman (CR North) the previous two weeks but was crowned the regional champ as Hauserman finished 5th to qualify for states.
At 113-pounds: South's Max Mendez was victorious once again over North's Luke Lucerne in this all Council Rock final, winning 3-1. Neshaminy's Zack Martin also qualified for states at 113 with a 5th place finish, blanking Methacton's Corey Morabito 3-0 in the blood round match for the fifth and final spot to Hershey.
120-pounds: The Golden Hawks had a chance at a sweep down low as their 120-pounder Shane Hanson-Ashworth reached the finals with a mild upset over Spring-Ford's Brandon Meredith 3-1 in the semifinals. But returning state champion Doug Zapf (Downingtown West) snatched victory away from Hanson-Ashworth in overtime with a ride-out and escaped, winning 3-1.
126-pounds: The SOL again had a finalist and champ at 126-pounds as Harry S. Truman's Gunnar Fuss topped an extremely talented group. Fuss outlasted Downingtown East's Lukas Richie 3-2 in the finals for his 100th career win. Quakertown's Josh Stahl finished third at 126, receiving a medical forfeit from Spring-Ford's Jack McGill. Stahl punched his ticket to Hershey after downing Neshaminy's Colton Jordan 3-2 in the consolation semis.
132-pounds: Council Rock South crowned their third champ at 132-pounds as Ben Radner garnered his 100th win and a regional title with an exciting first period fall after a scramble reversal and headlock finish, decking Souderton's Tyler Williams in 1:20. Radner gained revenge on Williams this past weekend, as he lost to Williams last weekend in the D1 East finals. This was the second of three all SOL final rematches from a week ago. Quakertown's Dom DeFalco punched his ticket to the Giant Center. downing CR North's Shane Thompson in the fifth-place bout 4-2.
138-pounds: It was Council Rock again at 138-pounds, but this time it was North's sophomore, Cam Robinson, dominating Owen J Roberts' Antonio Petrucelli 8-2 in the finals, winning his first regional title. South's Eric Woloshyn impressed as well, capturing bronze cruising to a 7-0 win over Henderson's Luke Phayre.
At 145-pounds, Pennridge's Evan Widing and Neshaminy's Jackson Erb both qualified for states winning their 3rd and 5th place bouts respectively. Erb dropped a 2-1 decision against Widing in the consi-semis and came back with a vengeance, topping Tyler Kaliner (WC Rustin) 9-3 for his berth to Hershey. Widing, who lost to Erb in last week's D1 East final, was successful in advancing to the Giant Center, decking Avon Grove's Nick Barnhart for the bronze.
152-pounds: Council Rock schools advanced two wrestlers at 152-pounds in Dillon Sheehy (CRN), who was the runner-up, and South's Cole Flanagan, who wrestled all the way back from a quarterfinal loss to place third. Sheehy pinned his way to the finals with a semifinal victory over Lower Merion's James Lledo in 53-seconds. Flanagan beat Lledo 13-6 in the consi-semis and edged Spring-Ford's Ben D'Arcangelo 1-0 in the bronze medal match.
160-pounds: Patrick O'Neill (North Penn) was perfect on the day, winning the title with a 6-0 shutout of Strath Haven's John Crawford. O'Neill was the lone SOL wrestler to advance at 160.
170-pounds: Nik Korbich exemplified the motto of Council Rock South's team of "Made for March" with a 5th place finish. Korbich rebounded after dropping an 8-4 semi loss to runner-up Andrew DiBernardo 8-4 and a 3-1 loss to Owen J's Jason Zollers 3-1 in the consi-semis by winning over Strath Haven's Brett Burns 5-3 for fifth and a trip to Hershey.
182-pounds: Pennridge's Josh Stillings did not disappoint, pinning Boyertown's Jacob Miller in the finals. Stillings earned his fourth trip to states with a decking of CR South's Giani Gilch in the semifinals. Stillings earned his third straight Outstanding Wrestler award with his efforts. Gilch, who has been nothing but terrific this postseason, starting with the team championships, punched his ticket as well with a fall of his own in the 5th place bout over Chase Mielnik (DTW). Truman's Alex Litz was superb as well as he placed 3rd with a 6-3 victory over Chase Smith (S-F). Litz reached the semifinals, but was thwarted by Jacob Miller losing a major decision 12-3.
195-pounds: William Tennent's Yusuf Aladinov was a pinning machine at Oxford as he placed 3rd with a fall over DTW's Joe Shafer. Aladinov recorded five falls over the two-day tournament. He had to come back Sunday morning for his final fall for the bronze. One of Aladinov's falls was pin downed on Souderton's Joe Stolfi (Souderton) in the consi-semis, but Stolfi advanced to Hershey with a 4-2 victory over Coatesville's Alex Raimondo with his 5th place finish.
220-pounds: Hatboro-Horsham's Nick Chapman failed in his attempt to defend his 2017 regional title, dropping a 10-1 major decision to Sun Valley's Hunter Catka. Catka is responsible for Chapman's two losses on the season. Chapman however, broke the H-H all-time career fall mark of 81, owned for 10-years by fellow heavy Andrew Myers. Chapman pinned his way to the finals to surpass Myers and now has 83 career falls and 34 falls on the season. North Penn's Owen Verespy earned his second berth to Hershey along with Chapman, finishing 5th with a 1-0 victory over Paul Pelham (Conestoga). Verespy had to earn it the hard way after suffering an overtime loss to Sylar McLeod (Pottsgrove) in the quarters. Verespy finished 4-2 after wrestling was completed Sunday morning upping his record to 36-6. Verespy had three OT matches, and for sure wrestled the most over the two-day event.
285-pounds: In the final of three all SOL finals, North Penn's Ryan Cody reigned king over Bensalem's Nick Cooper for the second week, earning his first regional title and second trip to states. Cody downed Cooper 6-3 in the heavyweight final. Plymouth-Whitemarsh's Paolo DiSanto capped a great postseason run at regionals with a 3rd place finish with a 3-1 sudden victory win over Garnet Valley freshmen Tommy Mahoney. DiSanto, a surprise to some, advances to Chocolate Town, USA, on a roll.
I'll try to make some good predictions for this week's state medalists later in the week, it's been hard to pick 'em so far, but I'll keep forecasting, and hopefully do better than the weathermen this week.
Good Luck to all SOL wrestlers this week at the greatest show in Pennsylvania.