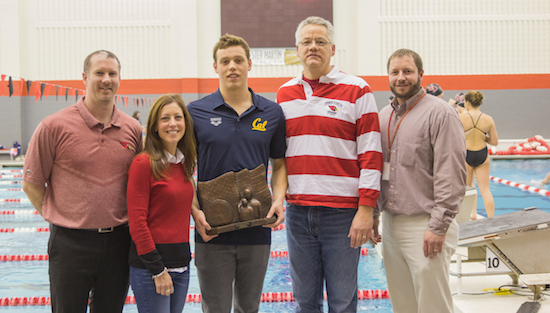 Michael Jensen, a 2016 Upper Dublin graduate, was recognized at Thursday's Upper Dublin-North Penn swim meet for his selection as the 2016 National High School Coaches Association Male Swimming Athlete of the Year.
The University of California freshman was a two-time state champion in the 100 and 200 freestyle and also left Upper Dublin as the state record holder in the 200 free and 400 free relay. He also owns the school record in the 50 free, 100 free, 200 free, 100 fly, 100 back and 200 IM.
Jensen also competed for the Upper Dublin Aquatic Club and won the 200 free at the Winter Junior Nationals in both 2014 and 2015. He qualified for the 2016 Olympic Trials in the 50, 100 and 200 free as well as the 100 fly.
A member of the 2015 and 2016 United State Junior National Team, Jensen earned a silver medal in the 400 free relay at the 2015 Junior World Championships.