SuburbanOneSports.com recognizes a male and female featured athlete each week. The awards, sponsored by Univest, are given to seniors of good character who are students in good standing that have made significant contributions to their teams. Selections are based on nominations received from coaches, athletic directors and administrators.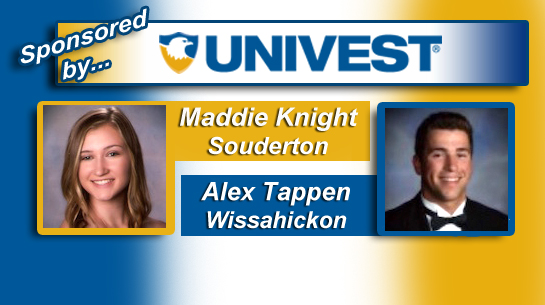 Univest's SuburbanOneSports.com Featured Female Athlete (Week of May 27, 2016)
Maddie Knight didn't live in the spotlight. The Souderton senior wasn't a star, but she was a consistent contributor to the lacrosse team this spring. The low attack player contributed 29 goals and 14 assists and was an integral part of an Indian squad that advanced to the District One 3A Tournament. "She's a quieter player, but she's extremely coachable," coach Nancy Offner said. "All the kids love her. She's a great teammate, and all those other things that go with it." There is nothing to suggest that Knight – a hard worker - had any limitations. Few knew that she has worked hard to overcome a brachial plexus injury that occurred during childbirth. "When I was born, they tore nerves in my arm that caused it not to work," she said. "I had to have a couple of surgeries to get it to work."
The damage to a network of nerves that originate near the neck and shoulder has prevented Knight from having full use of her right arm. Knight might not be able to switch hands as effectively as some of her teammates, and she might not do the crab walk, but she has never asked for or wanted special treatment. "During conditioning activities, when other players complained about how hard it was or because we were asking for proper form, Maddie never complained, never said anything," Offner said. "She just worked harder to do the pushups, burpees or whatever it was even though, due to her impairments, it was harder for her. When asked to go to non-dominant drills, she did it, never complained, never made excuses, just gave it 100 percent effort." And that's pretty much all anyone needs to now about Knight.
An excellent student who was enrolled in honors and AP classes, Knight is a member of Future Business Leaders of America and is involved in Peer Tutoring. This fall she will enroll at Penn State University where she plans to major in Bio-Behavioral Science with a minor in business. Her sights are set on a possible career as a medical product sales representative. Knight, who has a hard time imagining life with lacrosse, hopes to try out for Penn State's club team. Talk to Offner, and it sounds like a perfect fit. "She's extremely dedicated," the Indians' coach said. "She's obviously a strong left-handed player, and it's truly a good character trait of hers that her disability has never been an excuse. It's never been a reason for anything. She's a neat kid from a great family."
To read Knight's complete profile, please click on the following link: http://www.suburbanonesports.com/featured-athletes/female/maddie-knight-0070890

Univest's SuburbanOneSports.com Featured Male Athlete (Week of May 27, 2016)
"I want to grow up to be a baseball player." It has been the battle cry of young American boys since Abner Doubleday allegedly "invented" the game back in 1839 on Elihu Phinney's pasture in Cooperstown, N.Y. In about 9,999 of 10,000 cases, these dreams die a slow death against a backdrop of pitches too fast to hit and balls hit too hard to field all across the land. Then you get Case No. 10,000. The guy with a realistic shot. Meet Alex Tappen, the Wissahickon senior who is next bound for the University of Virginia, which he chose over several other prominent Division I programs to pursue his dream. To say Tappen was born with pine tar in his veins would be putting it mildly. His grandfather, Harry Tappen, was offered a contract by the Detroit Tigers but, in what was then another time and place – it was 1959, six years before baseball even had a draft – he decided to not GO down the baseball route and "get on with his life." "My father always asked him how in the world he could turn down an offer to play professional baseball," said Tappen. "He would always respond with 'You wouldn't be here today if I did.'"
And because Roger Tappen was here, Alex Tappen is able to continue the family's baseball legacy. Tappen could barely walk when he was already swatting whiffle balls tossed by his dad, an all-around athlete who has now mastered golf. A high-end student with a weighted GPA of 4.61, Tappen is going to Virginia to major in baseball but to minor in a viable Plan B. He will go in as an undecided major but plans to focus on business and economics. "It's one of the best academic schools in the country," said Tappen, who chose Virginia over schools such as Virginia Tech, Penn State, Pitt and Maryland. "If baseball doesn't work out, I'll still have a degree from the University of Virginia."
Tappen showed what he is made of by being a three-sport athlete, playing on both the soccer and basketball teams. While he gave up soccer after his sophomore year, Tappen stayed with basketball all the way through. "I couldn't say enough good things about Alex," said Wissahickon basketball coach Kyle Wilson. "You couldn't ask for a better teammate. He was a starter as a junior, but we decided to go with a smaller and quickly lineup, so he came off the bench this year. And he never fussed, moaned or complained. That means he is a kid who is dedicated to winning. He was the ultimate competitor. When you think of everything that is good about sports, you think about Alex and what he is all about. He just goes out and competes on the athletic field."
In addition to the National Honor Society, Tappen has been involved in the Ambassador's Club, and he was most recently the vice president of the FANS Club.
To read Tappen's compete profile, please click on the following link: http://www.suburbanonesports.com/featured-athletes/male/alex-tappen-0070858