SuburbanOneSports.com recognizes a male and female featured athlete each week. The awards, sponsored by Univest, are given to seniors of good character who are students in good standing that have made significant contributions to their teams. Selections are based on nominations received from coaches, athletic directors and administrators.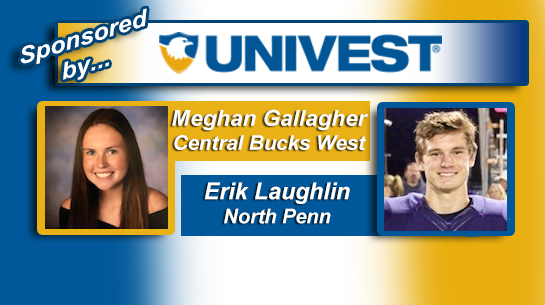 Univest's SuburbanOneSports.com Featured Female Athlete for week of Nov. 20, 2018
Meghan Gallagher isn't a headliner, and despite excelling as a four-year starter at center back, the Central Bucks West senior toiled in relative obscurity. "Meghan, being the center back, did not receive the spotlight like the goal scorers do," West coach Mike Moyer said. "She didn't care about that at all. She wanted the team to do well and win. That says a lot about who she is as a person. "Winning is something the Bucks did plenty of in the season recently completed. They won 14 games and earned the fourth seed in the District One 4A Tournament. It represented a remarkable turnaround for a team that two short years ago was 0-12 in SOL Continental Conference play. It's a turnaround that began late last year when Mike Moyer – this year's conference coach of the year - took over the helm. Listening to the Bucks' coach tell it, Gallagher was very instrumental in the team's change of fortunes. "From day one at summer league, Meghan and (co-captain) Trish (Hauck) brought the team together and made them a family," Moyer said. "Meghan remembered what it was like to be an underclassman and the anxiety that she had and most teenage girls have at that age, and she went above and beyond to make sure all the girls feel part of the team. She wanted her senior year to be one she would never forget and the turning point for CB West girls' soccer. She rallied the girls every time they were down. She was there for all of them. She and Trish Hauck were the reason we were successful this year."
Soccer is just one small piece of Gallagher's busy life. An excellent student, she was a member of the Key Club as a sophomore and junior, enjoying the opportunity to volunteer within the community. She has volunteered at Green Leaf Nursing Home and Bucks County Children's Museum, and she is involved with Best Buddies, working with special needs students. Gallagher also is involved with Rise Against Hunger, an organization that packages and donates food to those in need. "Meghan is such a good person off the field," Moyer said. "Everybody sees what she does on the field, but I see what she does on and off the field. She volunteers, she comes from a great family, and she's kind of like the team mom. She's always organizing pasta parties, sleepovers, team bonding. She's just a really likable person."
Gallagher, who has her sights set on a business major, is looking to attend a large school when it comes time to choose a college, and although her high school sporting days are over, Gallagher walks away with nothing but good memories."I could not imagine high school without soccer," she said. "It's such a big part of high school. I wouldn't have met some of my closest friends now if I didn't play. I just think it makes me a better person in general because it shapes who you are."
To read Gallagher complete profile, please click on the following link: http://www.suburbanonesports.com/featured-athletes/female/meghan-gallagher-0081546

Univest's SuburbanOneSports.com Featured Male Athlete for week of Nov. 20, 2018
Surprises are rare for a North Penn football team that consistently attains a high level of success, but Erik Laughlin would definitely fall into the category of surprise performer for the District One 6A runner-up Knights. Laughlin was the leader in tackles entering the Knights' district quarterfinal game against Neshaminy with 60 solo tackles and 42 assisted tackles. He earned second team All-SOL Continental honors. That's impressive by any standard, especially for a player who spent his sophomore and junior years playing jayvee."I didn't even think he'd start for us going into the year," coach Dick Beck said.
That's not to say the veteran coach wasn't expecting good things out of the senior linebacker. He was, but no one could have imagined such a gigantic leap by Laughlin."We always thought he was a smart enough kid, and we thought he could be the guy," Beck said. "He's just been great. Every game he has six, seven, eight tackles. What a surprise and what a great kid he's been for us."
Laughlin is a rare three-sport athlete and has been a contributor to both the varsity wrestling and lacrosse teams as well, but football is his undeniable passion. "It's always been my favorite – just playing it and watching it are so much fun," he said. "I like how it's very team-oriented."While some might have been discouraged playing jayvee as a junior, Laughlin never looked at it that way. "I just find it fun, honestly," he said. "I always find the fun in things. I enjoy being out on the field."
Everything was going Laughlin's way this fall. Until the Knights' district quarterfinal game against Neshaminy. "We were warming up the quarterback," Laughlin recalled. "We were running deep, and I went to jump and catch the ball. I caught it, and when I came down, I guess my knee twisted or something.I didn't really feel it, but I heard a slight pop. "The doctor's initial prognosis was a torn meniscus. "It's six months if he repairs it and only one month if he trims it, so there's a possibility I will be able to wrestle," Laughlin said. "It's rough, but I like to look at it – at least I got hurt doing something I love."
Laughlin is a four-year varsity wrestler and last year finished first in his weight class in the SOL Tournament, third in districts and qualified for regionals."Erik was a great wrestler for us," coach Rob Shettsline said. "He always works hard all year, he puts in the extra time, he always does the right thing, and he was always there for us. We can count on him 100 percent of the time." Laughlin was also a mainstay in the midfield for the lacrosse team and will be a three-year varsity letter winner. "Erik works extremely hard and is very disciplined, which is why he is so successful in his sports," coach Rick Smith said. "Every day Erik puts forth 110 percent effort and it absolutely shows."
Laughlin has not ruled out the possibility of continuing his football career at the collegiate level if the opportunity presents itself."It would be hard to walk away from football," he said. "I've been doing it since I was six. "He is planning to pursue a plastics and polymer engineering major and is considering Penn College of Technology where he would continue his wrestling career.
To read Laughlin's complete profile, please click on the following link: http://www.suburbanonesports.com/featured-athletes/male/erik-laughlin-0081545