SuburbanOneSports.com recognizes a male and female featured athlete each week. The awards, sponsored by Univest, are given to seniors of good character who are students in good standing that have made significant contributions to their teams. Selections are based on nominations received from coaches, athletic directors and administrators.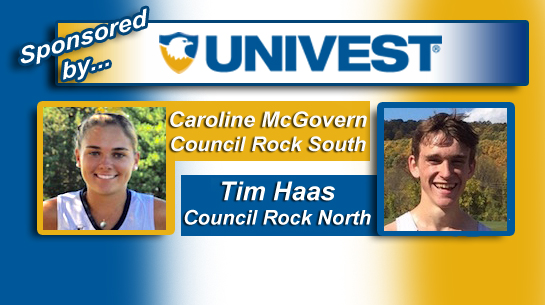 Univest's SuburbanOneSports.com Featured Female Athlete (Week of Nov. 24, 2016)
Caroline McGovern can create magic on the hockey field. And in a sport where goals are hard to come by, the Council Rock South senior has made scoring goals look easy, finishing a stellar high school career with 102 goals and setting the bar high for aspiring young hockey players in Lower Bucks County and beyond. "Caroline has been an inspiration for the program and to all the younger players in the area," coach Lisa Belz said. "She comes up big when you need her to, and those players are hard to come by." McGovern's star shown brightly during a senior season that saw her break the 36-year-old Lower Bucks single season record of 38 goals set by Neshaminy graduate Monica Mills in 1980.
If players are defined by their performances in big moments, McGovern is at the head of the class. In both of Rock South's games against a Neshaminy team that captured the 2015 SOL National Conference crown, McGovern scored the game winner in overtime. She was the very definition of clutch in the second meeting between the neighboring rivals with the conference title on the line, scoring her second goal of the game during corner play to propel the Hawks to a 2-1 win. McGovern's game winner not only clinched sole possession of the conference title but was the 100th goal of an unparalleled career.
McGovern earned first team all-state honors as a sophomore and junior – with this year's selection all but a certainty as well. In 2014, she earned a spot on the Junior Indoor National team and is a member of the USA U19 Indoor National Team. She is currently in trials for the U19 National Team with one more tryout to go. This past summer, McGovern's Princeton club squad captured the prestigious U19 National Club Championship. She will leave Rock South as the undeniable standard bearer for her sport. "As she got older, Caroline started to give back," Belz said. "She would always pull younger kids aside and help them. She would go up to the turf all the time and she'd say, 'Does anyone want to go up with me?' A group would go up. She had so much experience, and she could bring so much more to the team and the program."
McGovern has accepted a field hockey scholarship to continue her career at Boston College, following in the footsteps of older sister Kaitlin, who played there 11 years ago. She plans to major in business and marketing. Off the hockey field, McGovern is a member of Rho Kappa Honors Society and English Honors Society. She is a committee member for her school's Thon, and she raises puppies for the Seeing Eye puppy-raising program.
To read McGovern's complete profile, please click on the following link: http://www.suburbanonesports.com/featured-athletes/female/caroline-mcgovern-0066292

Univest's SuburbanOneSports.com Featured Male Athlete (Week of Nov. 24, 2016)
Tim Haas began running through Tyler State Park in Newtown when he was six or seven years old. Around the same time, he joined Cub Scouts. It seems only fitting that Haas, a year-round runner for Council Rock North, would combine his twin passions for his Eagle Scout project and work toward improving an already close-to-ideal cross country course for future generations while earning his badge. "It was mostly just trying to make it as perfect as I could," he said, adding that planting new trees and adding mulch while ironing out some rough spots were the main features of his project. "I always knew I wanted to do (the Eagle Scout) project, so I talked to the park director and my coach about it. I've made some great friends through scouting."
The same could be said of his 2016 PIAA Class AAA state championships Council Rock North cross country team, co-captained by Haas and Bryan Keller. "I would describe them both as very quiet leaders, but there's kind of a dignity the way they lead the team," coach Dave Marrington said. "They lead more by example than with words. They're both excellent students as well as high character kids. We have a sign in our weight room that says, 'At the critical moment, we must choose what's right over what's easy.' Tim and Bryan both always choose what's right, and their leadership has set a great example for our younger kids." A four-year letter winner, Haas took his role of captain seriously and credited the leaders he had as an underclassman – Ross Wilson in his freshman year and Brian Arita in his sophomore year. "I was fortunate," reflected Haas. "As an underclassman, I had good role models to look up to."
The just completed cross country season was satisfying for Haas on many levels. Not only did his team experience remarkable success – winning both the state and district team titles, he conquered his own issues with what he termed "butterflies in his stomach" on the days of meets by altering his diet. As a result, he placed third in the league and seventh in districts. He qualified for states and placed 26th, playing a key role in his team's state title run. "That was one of my goals this year," he said of making it to states. Haas hopes to carry the success he experienced in cross country into the indoor and outdoor track seasons. He plans to run competitively at the college level and is in the process of finding the ideal situation where he can do that while majoring in computer science.
To read Haas' complete profile, please click on the following link: http://www.suburbanonesports.com/featured-athletes/male/tim-haas-0066262