SuburbanOneSports.com recognizes a male and female featured athlete each week. The awards, sponsored by Univest, are given to seniors of good character who are students in good standing that have made significant contributions to their teams. Selections are based on nominations received from coaches, athletic directors and administrators.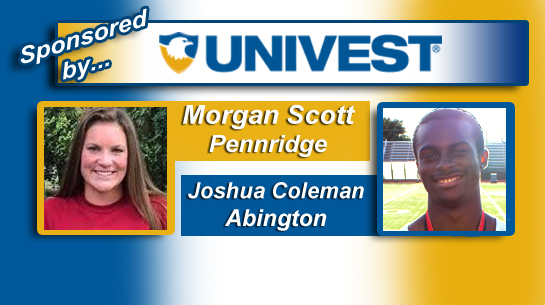 Univest's SuburbanOneSports.com Featured Female Athlete
In the pool, Morgan Scott is about as intimidating as they come. Her five gold medals at the PIAA state championship meet, a stash of District One titles, pool, school, league and age group records, and numerous appearances at Junior National Championships and other prestigious national elite level events speak to an unmatched level of excellence in the water. A burning desire to win every race, combined with an attitude that her club coach Stu Kukla describes as "a shark who can smell the blood in the water," means that in the rare occasion that a swimmer finds herself in front of the Pennridge senior, she rarely stays there for long. But when she's not on the starting blocks or charging through the water, Scott – who specializes in the 100 and 200 free but also swims middle distance and backstroke – is anything but unapproachable.
"Swimming is not a sport like basketball where you can argue over who's better," said Kukla, Scott's coach at Central Bucks Swim Club. "The results are measurable in swimming. You now she's the fastest in the state, you can't argue it. When you're that good, you could be cocky and arrogant about it. Morgan is not like that at all. She loves to actively cheer her friends on. She'll be on the pool deck getting everyone motivated. She cares about the other kids on the team. She's helped build an atmosphere, a culture, where these kids recognize and respect hard work."
Just because Scott has goals beyond district and state medals, that doesn't mean that she takes the high school swim season lightly. Once she's in the pool with her Pennridge teammates, she's just as focused on helping her team win as she would be in a Junior National Championship meet. "Morgan is a once-in-a-lifetime athlete to coach," Pennridge swimming coach Jacob Grant said. "Half the records on the board have her name. That can be intimidating to the younger girls. But outside the water, Morgan is one of the nicest, most down-to-earth girls you'll ever meet. She'll go down as probably the greatest swimmer in Pennridge history, but she's so much more than that when you get to know her."
Scott is quick to point out that swimming has not only helped shape her as an athlete but as a person as well. Whether it was missing the Olympic Trials qualifying time by mere hundredths of a second (Scott did beat the time shortly thereafter, though it was past the qualifying deadline), or being bullied as a younger swimmer, the lessons she's learned and the successes – and even the failures – have all helped her to become who she is today.
Scott's experience in national level events has given her the opportunity to measure herself against the best in the world, but once Scott steps up on the starting blocks for the Rams, her aim will be as laser-sharp as ever. While she has a few personal goals she'd like to achieve, her main focus will be to bring success to her team while helping set up the underclassmen for the future.
Scott has accepted a full scholarship to the University of Indiana where she is looking to pursue a science degree and is hoping she can make an immediate impact or the nationally-ranked Hoosier swim team.
To read Scott's complete profile, please click on the following link: http://www.suburbanonesports.com/featured-athletes/female/morgan-scott-0074652

Univest's SuburbanOneSports.com Featured Male Athlete
Like most elementary-school aged boys, Joshua Coleman's first sports love affair came with football. But as Coleman got closer to high school, there was only one problem with his future in the sport. "He doesn't really have the height or size for it," Abington cross country and track head coach Bill Neely said. "But Josh has also been running most of his life. Running was always his strongest point." Coleman's lack of a significant growth spurt became Neely's gain, as the coach soon helped convince Coleman, a senior cross country and track star for Abington, that his biggest asset was indeed his speed and that he needed to put it to use year-round on tracks and cross country courses rather than the football field. After clinging to his football dreams through freshman year, Coleman soon dropped the sport entirely. By the spring, he was already running varsity outdoor track and became a member of the cross country team the following autumn. Once he committed to running year-round, Coleman instantly fell in love with the way it made him feel, as well as the way it changed the way he viewed the world around him.
Although he's a well-spoken, confident leader now, Coleman suffered from debilitating shyness as a freshman. Coleman's elder teammates took him under their wings and immediately made him feel part of the team. "Those guys mentored me and really pushed me during workouts," he said. "They always made me feel like I was a part of it." From there, all that was left to do was run, and Coleman did that extremely well. Neely said Coleman truly blossomed as a junior when he made tremendous strides in both the 400 and 800m races, with the latter being Coleman's favorite. He hit his goal of running a 1:57 in the 800 and was a member of Abington's 4x400 relay team finished fourth at outdoor states.
Although he mainly uses cross country and indoor track as a tune-up to the main event of the outdoor spring season, Coleman stepped up this fall to be a leader of the team when Abington's top runner went down with an illness. "All of a sudden, Josh comes out of the woodwork to be our lead runner," Neely said. "He's a leader, a captain. He works hard, does everything he's supposed to do in practice, and he's consistent in his training."
Despite all of the time he spends training, Coleman also works tirelessly in the classroom. Neely said that Coleman is in the top five percent of his class and is taking numerous advanced placement classes. The coach said his runner has both the talent to run and study at the Ivy League level. Coleman himself said he hopes to one day become a mechanical engineer. One of his goals is to invent something by the time he is 30 years old. Coleman is also a member of the Abington Community Task Force at school and helps to organize goods drives for charity and organizing different community service projects within the student body.
To read Coleman's complete profile, please click on the following link: http://www.suburbanonesports.com/featured-athletes/male/joshua-coleman-0074665