SuburbanOneSports.com recognizes a male and female featured athlete each week. The awards, sponsored by Univest, are given to seniors of good character who are students in good standing that have made significant contributions to their teams. Selections are based on nominations received from coaches, athletic directors and administrators.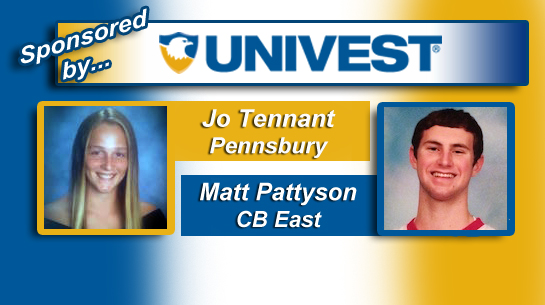 Univest's SuburbanOneSports.com Featured Female Athlete (Week of Dec. 15, 2016)
She's just Jo. It's a phrase that Pennsbury girls' soccer coach Kaitlyn Battiste often uses to describe Jo Tennant. The moments seem endless, the stories too numerous to just pick one in order to sum up the Falcons' co-captain. "There's no one else who's really like her," Battiste said. "It's that personality meshed with that leadership." A coach is lucky to get a once-in-a-career type of talent, someone who transcends any player they've had before. Tennant was never Pennsbury's best player, but the way she blends competitive fire with impassioned support for teammates, the rare ability to connect almost instantly with anyone she meets and a special, genuine sense of humor make Tennent her own type of generational player. "She enjoys the game but she's the comic relief of the team," Battiste said. "She's not a class clown, she's smart in that it was always in the moments when we needed it the most, the moments where we were the most intense or the most frustrated and she has those little one-liners or honest moments that make you take a step back, breathe and laugh at yourself and be able to move on."
Aside from soccer, Tennent is a member of the National Honor Society, Fellowship of Christian Athletes (FCA) and proudly volunteers with Athletes Helping Athletes. Tennant's background and upbringing has a lot to do with who she is today. She carries a dual-citizenship, and neither of them is from the United States. Her parents originally hail from South Africa, and she and her two brothers were born in England. Soccer is big in South Africa and king in England, so the sport was – as Tennant puts it – practically in the blood.
Throughout her career, Tennant was exclusively a defender, moving up to Pennsbury's varsity during the team's 2014 run to a District I title and staying there the next two seasons. This season, with the Falcons hit by some preseason injuries, the coaches asked Tennant to move to outside midfielder. "It was a whole new perspective, a whole new view of the field," she said. "As soon as they told me I would be on the wing, I was watching everyone I could, getting tips from everyone I could talk to who played wing. I googled how to play wing, anything to make me the best winger I could be." Tennant was named a captain of this year's SOL National Conference championship squad, and this winter, despite never having played before, she decided to try out for basketball and made the team. The senior went through another round of Google research so she could give her all on the hardwood.
Tennent will continue her soccer career at The College of New Jersey (TCNJ) next year while pursuing her plan to become an English teacher.
To read Tennant's complete profile, please click on the following link: http://www.suburbanonesports.com/featured-athletes/female/jo-tennant-0066704

Univest's SuburbanOneSports.com Featured Male Athlete (Week of Dec. 15, 2016)
When now-senior Matt Pattyson was a freshman at Central Bucks East, he was one of three in his class to distinguish himself on the basketball court and earn significant playing time on the junior varsity team. But as summer approached, he seemed to be a bit off the radar screen of the coaching staff. Not completely, but just enough that it wasn't yet clear if the somewhat gangly incoming sophomore would be a varsity contributor. That became crystal clear during a summer tournament in Haverford, and what followed remains one of head coach Erik Henrysen's favorite stories about his third-year starting point guard, who hit the weight room and filled out while growing to 6-2. "JV and varsity were scheduled at the same time," he said. "Since Matt hadn't yet defined a role with the varsity, we had him report to the JV game. He was furious with me. My JV coach told me he was relentless in the game. He ended up hitting six or seven threes and had a ton of steals."
If he was only a blip on the radar screen going in, he wasn't going out. "It's just a quick snapshot of who Matt is," said Henrysen. "When things don't go his way, he still sees opportunity. Matt hasn't stopped convincing me to believe in him even though he knows he has the keys to the program." Pattyson went on to make himself so invaluable that he was named a co-captain midway through what was a transition year for a young and oft-injured team during his sophomore season.
A three-year captain, Pattyson's leadership role extends beyond the court as he feels a strong commitment to the standard set by his school in its Coaches vs. Cancer program. This year, along with Abby Charlton of the girls' team, he is a co-chair and looks to continue the school's tradition of being the best in the nation at raising money for the cause. "It's something I take great pride in," said Pattyson, who also is involved in the Athletes Helping Athletes program. "We are the top high school in the nation, and I want to us to top last year's total and set the example for all high schools. I also want to set a standard for the younger kids to follow."
Pattyson has found the balance of being as successful in the classroom as he is on the court. This year he is taking three AP classes and one honors class. An aspiring business major, he boasts a 4.3 weighted grade-point average. "Matt has been our heart and soul since his sophomore year," Henrysen said. "Matt is the face of our program. He is the exact example of the type of student-athlete that we want representing East basketball.
To read Pattyson's complete profile, please click on the following link: http://www.suburbanonesports.com/featured-athletes/male/matt-pattyson-0066700