SuburbanOneSports.com recognizes a male and female featured athlete each week. The awards, sponsored by Univest, are given to seniors of good character who are students in good standing that have made significant contributions to their teams. Selections are based on nominations received from coaches, athletic directors and administrators.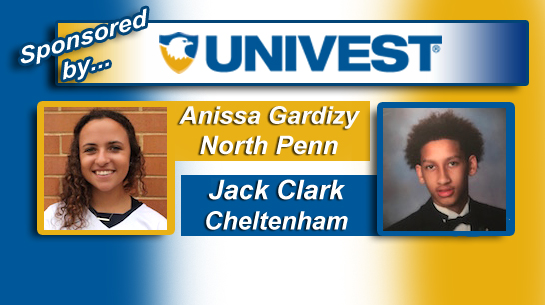 Univest's SuburbanOneSports.com Featured Female Athlete
There's an obscure YouTube video of Anissa Gardizy – then just in sixth grade – holding a mug in her right hand and smiling broadly into the Oak Park Television camera, looking for all the world as though she's been doing this her entire life. An animated Gardizy begins her brief clip about the recent visit of a representative of the Philadelphia Zoo with a spirited introduction. "This is Anissa Gardizy bringing you the latest and greatest from Oak Park Television." Gardizy calls the old videos embarrassing, but there haven't been many of those moments for the North Penn senior, who's been at home behind the camera ever since her Oak Park Elementary days.
These days Gardizy is equally comfortable in front of the camera or directing those who are in her role as director at North Penn Television. Half of her school day is devoted to NPTV as part of her career studies, and that's just one piece of Gardizy's jam-packed life. She is also the editor of The Knight Crier, the school's digital newspaper, and she is president of the Student Government. In her spare time last fall, she put on the goalie pads and anchored the defense of North Penn's field hockey team. "Anissa is a once-in-a-career kind of student," said Knight Crier advisor Kevin Manero, who is also the Knights' varsity baseball coach. "It is rare to see someone not only so involved in so many aspects of our school culture and climate, but also so genuinely and authentically passionate about the contributions she makes. To be so invested academically with AP courses, athletically with field hockey, as a leader in student government, NPTV, and oh, also as an editor for The Knight Crier... need I say more?"
In her first season as varsity field hockey goalie last fall, Gardizy earned first team all-league honors in the hockey rich Continental Conference. She also was co-MVP of her squad. Those are impressive accomplishments by any standard but especially for someone who wasn't part of the club circuit. "She's one in a million. I can't say enough about her," coach Shannon McCracken said, going on to explain what made Gardizy such a successful goalie. "She was willing to take risks because her athleticism was so phenomenal she could make that dive. She could run out to an approaching player because she was so athletic and she could recover. After games, coaches would say, 'Where's your goalie going? She's fantastic.' She saved our butts in so many games."
Although hockey won't be part of Gardizy's college experience, writing will be as she plans to major in journalism at Emerson College. "Anissa is the kind of kid North Penn School District should highlight and publicize every chance they can," Manero said. "She is the true embodiment of what public education can do for a kid and what a kid can do for public education."
To read Gardizy's complete profile, please click on the following link: http://www.suburbanonesports.com/featured-athletes/female/anissa-gardizy-0076390

Univest's SuburbanOneSports.com Featured Male Athlete
Suffering a major injury in the middle of a senior season might cause the immature to fade away from the program the rest of the year, especially if a college commitment to a storied Division-I program was already in tow. Luckily for the Cheltenham High School basketball program, Jack Clark represents the antithesis of immaturity. Clark, a 6-foot-7 guard and the Panthers' best player for the past two seasons, was prepared for a magical senior season. Not long before Cheltenham played its first game on the 2017-18 schedule, Clark, buoyed by a six-inch growth spurt his junior year, announced his commitment to continue his basketball career close to home in the Big 5 at La Salle University. He was also on a collision course with the 1,000-point milestone for his career, and Clark was hoping to lead the Panthers back to the state tournament, where one year prior he had scored a star-turning 32 points in an opening-round game against Emmaus.
That trajectory changed in late January, when Clark landed awkwardly on the court following a dunk in a game, tearing the anterior cruciate ligament in his left knee. Just like that, his senior season was finished. There would be no 1,000 points, and Cheltenham would ultimately be one-and-done in the district tournament. Despite the injury that prematurely ended Clark's high school career, he was still in attendance for every Panthers' practice and game thereafter in support of his teammates. Cheltenham head coach John Timms said that Clark's ability to shake the injury off and move forward, rather than dwell on it and remain in a perpetual state of dejection, is just reflective of the player's personality. "He came to every practice and game to encourage his teammates, which I think was healthy for him," Timms said.
Timms was thrilled to see Clark commit to La Salle and would have been ecstatic wherever Clark decided to go. However, getting a player to a local Big 5 school was something of a white whale for Timms, who had gotten players committed to major Division-I programs while he was the head coach at Friends Central (Amile Jefferson to Duke, for example), but he always wanted to place one into one of the storied local big-time programs. "This is why we get into this," Timms said. "Anytime I can help a kid get secondary education for free is a win, but Jack staying home to go to La Salle is icing on the cake. I've never delivered a local Division-I team a kid, and I can't express in words what I felt for Jack in committing to a Big 5 school. When he walks out there to fulfill his dreams at La Salle, he's going to see how Philly embraces him for making the decision to stay home."
Clark said he's not sure what he wants to major in yet, though he stated the fields of business and sports management both interest him on the surface. When he's not playing basketball or focusing on his rehab, Clark likes to spend time with his family. He also is a member of a group called Jack & Jill, an African American-based organization that puts together canned food drives and community service projects to help the less fortunate.
To read Clark's complete profile, please click on the following link: http://www.suburbanonesports.com/featured-athletes/male/jack-clark-0076391