SuburbanOneSports.com recognizes a male and female featured athlete each week. The awards, sponsored by Univest, are given to seniors of good character who are students in good standing that have made significant contributions to their teams. Selections are based on nominations received from coaches, athletic directors and administrators.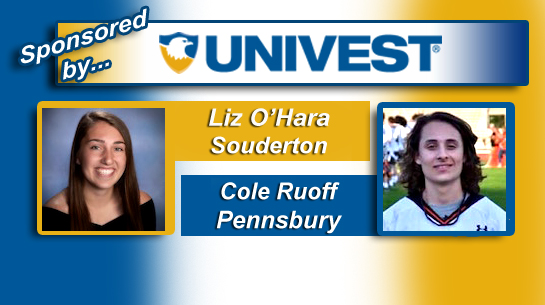 Univest's SuburbanOneSports.com Featured Female Athlete
Liz O'Hara's legacy at Souderton won't have anything to do with the number of goals she's scored or prevented during her three-year varsity career on the field hockey and lacrosse teams. As a matter of fact, it won't have anything to do with what the Souderton senior has done. Rather, O'Hara's legacy will have everything to do with who she is. Souderton athletic director Dennis Stanton recalls a sweltering hot day last summer when the field hockey team – with O'Hara as one of its captains – had just completed a timed run."I remember them walking off the field, and this one freshman – it was her first time doing it, and she's just exhausted," Stanton said. "It's a 90-degree day in August, and I said, 'This is really tough, isn't it?' and she said, 'Yeah, but when I see Liz O'Hara, it makes it all easy.'" It's a moment Stanton hasn't forgotten, and it speaks volumes about O'Hara. "We want our freshmen and we want our sophomores to look up to our seniors," the Souderton AD said. "Liz did not just pay lip service to being an enthusiastic positive leader. "Liz did it every single day. Her legacy is going to live on for a long time in a lot of different sports as well as academically."
Academically, O'Hara is quite literally at the top of the class. Named the valedictorian of the Class of 2018, she will be speaking at Souderton's graduation on June 11. It should hardly come as a surprise that O'Hara displays the same smarts on the athletic field."She can anticipate an opponent's play and comes up with these crazy interceptions," Souderton lacrosse coach Nancy Offner said. "She's just one of the smartest and most unselfish players you'll ever see. She's your great all-around kid. She's kind, she's smart, and she's helpful. Everyone loves her – all the players love her, all the coaches love her." Even, it turns out, the coaches who are no longer coaching O'Hara. The senior opted to not go out for the basketball team this year, but Souderton coach Lynn Carroll is still eager to talk about her former player. "You're not going to find a better kid, you're not," the Indians' coach said. "She's just a solid kid through and through and the ultimate team player."
In field hockey, the senior captain anchored the left midfield position. "She's a hustler at all times," coach Nicole Bauer said. "That's what she gave us – consistency and hustle all the time. She's one of the hardest working people on the team. She is also hard working off the field and is just a great role model altogether." O'Hara is a member of the National Honor Society and is involved with the school's LINK Crew, student government and the Athletic Leadership Council. This past winter she joined, Souderton's Unified Bocce Team. Early in the school year, she was actively involved in planning and promoting the women's symposium SAHS Young Women Rising: I am That Girl. O'Hara developed the web site and did a lot of work behind the scenes to make sure the day ran smoothly. It was an experience that impacted O'Hara's career path – she will double major in computer science and graphic design when she attends Rider University this fall.
To read O'Hara's complete profile, please click on the following link: http://www.suburbanonesports.com/featured-athletes/female/liz-ohara-0078571

Univest's SuburbanOneSports.com Featured Male Athlete
Pennsbury boys' lacrosse coach Drew Artin has a very specific image that comes to mind when he thinks of Cole Ruoff on the field as a sophomore. "Cole's never been the biggest guy," Artin said. "So there he is with the big lacrosse helmet on his little body as a sophomore." Ruoff's size wasn't the only thing that stood out to Artin. "I remember Cole got his first opportunity on varsity, and I saw him draw and dump, and not a lot of guys were doing that," the Falcons' coach said. "Cole really had the fundamentals down from the beginning. He was the guy who was doing all the little things that a lot of players neglect or lose sight of how important they are. And then to see how he committed to an offseason workout program, did stuff on his own time. He's gotten bigger and faster and stronger and he matured as a player. Cole won't go down as the biggest attacker in Pennsbury history, but pound for pound, they don't get much better than him."
Much has changed since Ruoff was a sophomore. As he's grown and improved, so has the Pennsbury lacrosse team. Following a difficult 2017 season that saw the Falcons finish 5-12 overall, a young 2018 squad – with Ruoff as captain – improved to 9-9 overall, qualified for the District One playoffs for the first time since 2012 and has laid the groundwork for a successful future for Pennsbury lacrosse. The leadership and example set by Ruoff and his senior teammates will be a large factor in any future successes the Falcons may achieve. In Ruoff's case, his unwavering work ethic and his ability to play his role on the field serve as invaluable models for returning players. "Cole is the kind of kid who does a lot of little things that might not show up on the stat books," Artin said. "He's a guy who never wanted to be in the spotlight, but he did what he needed to do to help other people flourish and help the team be successful. If he had gone to the cage every time he touched the ball, everyone else would have done that, too. If Cole didn't want to get after ground balls to keep plays alive or chase after shots, we wouldn't have been as successful as we were. He has a cool head out there, he's selfless, and he has fantastic vision."
That unwavering work ethic and desire to challenge himself - both on the athletic fields and in the classroom – can't be taught. Ruoff loaded his senior year with numerous AP and Honors classes. In addition to lacrosse, Ruoff was a member of the Pennsbury Ultimate Frisbee Team until this spring. He is a member of the Model UN Club, Red Cross Club and the National Honor Society. In a few short months, Ruoff will take his academic challenges to the next level. He will be attending the University of Maryland and is looking at studying bioinformatics. Ruoff will leave a hole that will be difficult to fill. Though both coach and the soon-to-be-graduate are hoping the younger players watched and learned from Ruoff's example.
To read Ruoff's complete profile, please click on the following link: http://www.suburbanonesports.com/featured-athletes/male/cole-ruoff-0078569