SuburbanOneSports.com recognizes a male and female featured athlete each week. The awards, sponsored by Univest, are given to seniors of good character who are students in good standing that have made significant contributions to their teams. Selections are based on nominations received from coaches, athletic directors and administrators.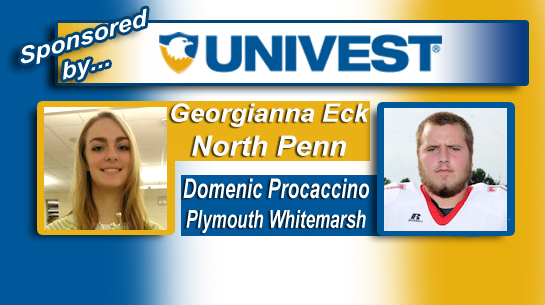 Univest's SuburbanOneSports.com Featured Female Athlete (Week of Sept. 17, 2015)
Senioritis will never be a problem for Georgianna Eck. The North Penn senior simply doesn't have the time to slow down. In addition to a challenging course load in school, Eck has been practicing martial arts since she was six and is a First Degree Black Belt in Kenpo Karate. She is a Distinguished Honor Roll Student, excels in both Japanese and German languages and has earned Silver and Gold Medals on the National German and National Japanese exams. She has been the editor-in-chief of her middle school and high school literary magazine since eighth grade, is a member of the National Honors Society, the National Japanese Honors Society, the Key Club, and she serves as president of the International Friendship Club. She sings in the North Penn High School Chorus and has performed in two school musical productions. And that's just a fraction of Eck's activities and interests. "I'm involved in a lot of different things, but they're all the parts that make up who I am," Eck said.

Among all those clubs and commitments, Eck also finds the time for practices and games as a middle hitter on the North Penn girls' volleyball team. And while Eck may have a ton of other things on her plate, when she's in the gym, she is 100 percent dedicated to her team and her teammates. "Georgi is a very hard worker," said North Penn girls volleyball coach Kevin Eck, who also happens to be her uncle. "She always comes with the right attitude, she works very hard, she's very vocal and supportive of her teammates. I use football analogy of 'strapping it on.' Georgi comes out and it's like she straps on that helmet, and when she does that, she's a totally different kid – she's hyperfocused. Off the court, you see the 17-year-old girl that has all these interests and is friendly and talkative, but on the court she's all business."
Martial arts led Eck to develop an interest in foreign languages. She achieved a perfect score in the National Japanese Exam and became Japanese Language Proficiency Test Level N5 Certified. Over the summer, she spent several weeks in Japan as a youth ambassador as part of the Japan Foundation JET-MIP Scholarship program.
Eck's interest in foreign language has led her on the path of studying International Relations in college in the hopes of eventually working for the United Nations or becoming a diplomat. If there's one passion that rivals language, it's writing. "For the literary magazine, I tend to write mostly fiction short stories," she said. "But I've written a couple novels, novellas that someday I'd like to be published." And if she were asked to write the perfect ending to her final high school volleyball season? "The best way to go out would be to be able to look back at the season and our last game and say we gave it our all," Eck said. "I want to be able to look back and see how much we've improved. Of course, I'd love to win, but I do think there's more to volleyball than just winning."
To read Eck's complete profile, please click on the following link: http://www.suburbanonesports.com/featured-athletes/female/georgianna-eck-0055700
Univest's SuburbanOneSports.com Featured Male Athlete (Week of Sept. 17, 2015)
Domenic Procaccino is, in many ways, your typical offensive lineman. The Plymouth whitemarsh senior is big and strong with quick feet. He excels at a position that requires strength and smarts, and the way Procaccino tells it – he had a football in his hands when he came out of his mother's womb. But don't be fooled. Procaccino is anything but your stereotypical football player. When football season ends, the PW senior devotes his time and talent to a sport at the opposite end of the spectrum. He is the top bowler on PW's bowling team. "Normally, I get the golfers that go out for the bowling team," coach Jeff Blizzard said. "It's been a unique experience coaching him. He's been a varsity guy from the beginning. He's a great addition to the team." Bowling – like football – runs in his family. "My mom's side of the family were football players, and my dad's side – we're all bowlers," said Procaccino of his parents Domenic – a Truman grad – and Malinda, a PW alum. "That's what we're good at."
This fall, Procaccino, who started his career as a quarterback, is the undisputed leader of an inexperienced

offensive line. "He's the only returning starter from our offensive line last year," coach Dan Chang said. "(This year) he's really been lights out as an offensive lineman – mentally, physically, technique-wise, and he's a great role model for all the younger kids, not only with his play on the field but with how he acts. We always talk about program kids and who you want representing your program." The number one vote getter when it came time for his teammates to elect a captain, Procaccino is fundamentally sound at a position that requires attention to detail. "He's smart and able to adjust on the fly," said Chang of a player he's known since Procaccino was the team's ball boy in seventh and eighth grades.
Procaccino has also made significant contributions to the bowling team, earning a spot in regionals as a junior. Beyond that, the personable Porcaccino, according to Blizzard, is fun to be around. "That's the beauty of Dom," the PW coach said. "He's always really loose, and ever since he was a freshman, he's been really good at encouraging his teammates, and he does it with a competitive spirit."
While bowling will be a lifetime sport for Porcaccino, he is hoping to extend his football career beyond high school as well. A student at North Montco Technical School, he is looking into Williamson Trade School but is keeping his ears open and will entertain all college offers. For now, he is leading an inexperienced offensive line for a PW squad that is 3-0 out of the gate. "He's a lead-by-example kid on the field," Chang said. "We can always point to Dom – his technique and his effort, and that's what we want everybody to get to. If everybody got to what he is able to do, we're be excellent."
To read Procaccino's compete profile, please click on the following link: http://www.suburbanonesports.com/featured-athletes/male/domenic-procaccino-0055698