The Upper Dublin girls' swim team capped a remarkable 30-year run at the top of the conference when it captured the SOL American Conference crown last week. (Article sponsored by the Upper Dublin Girls Swimming and Diving Team Boosters)
By Craig Ostroff
History.
The Upper Dublin girls' swim team is all about history—understanding it, appreciating it, passing on the lessons learned from it.
That's why the team continues to make history.
With its 30th consecutive Suburban One League title last weekend, the Cardinals added one more chapter to its rich history.
In doing so, members of the 2019 team have etched their names alongside the hundreds of swimmers and divers whose efforts have helped establish and continue an historic run.
"It's been amazing to be with this group of girls and to share this with everybody on the team," said senior captain Lia Wilmoth. "This team is my second family, and I go through something different with them than with any other friends or family. All the hard practices and early morning practices, we know that we've gone through the worst in order to get to the best. Being able to accomplish this with all of my teammates, I can't even put it into words."
While the motivation now extends back 30 years, the focus on adding to the streak begins before the first meet of the year, when the team sits down to discuss goals for the upcoming season. "Not on my watch" has proven to be a common theme, a rallying motto and a reminder that no one wants to be the team that sees the streak end.
So far, so good.
"We start every year talking about history and legacy, what the program has accomplished and how each subsequent team feels a responsibility to the teams that went before to keep up that tradition," said Cardinal coach Pat Redican. "It's a validation of the sacrifices we ask the girls to make to the program—the mornings, afternoons, Saturdays. Every time we add something to this, we've continued to validate everything we've been talking about. It tells me they've got that connection to the teams that came before them and they want to add to what the teams before them have done."
And while every title is special and every team achieves its goal differently, there is something extraordinaary about a milestone number such as 30. It signifies that the streak is more than twice as old as some of the younger members of this year's team. And it almost makes streak intergenerational (freshman Mela Morina's mother was a senior on the 1989 squad, one season before the streak began).
Understandably, this year's seniors were well aware of the significance of this particular crown. They began thinking about it this time last year.
"It's didn't really dawn on me until last year, but when we won number 29 last year, all of a sudden, 'Oh wow, our senior year is number 30,'" said senior captain Abbie Amdor. "And when we started to realize what we had this year, it became, 'We can really do this, this is a once-in-a-lifetime opportunity, let's take this challenge.'"
The Cardinals did just that, showing consistent improvement throughout the dual meet season and posting 551 points (114 points ahead of second-place Hatboro-Horsham) to decisively claim number 30 at the Suburban One American Conference Championships. After jumping out to an early advantage with 47 points in diving, the Cardinals set the tone in the first race of Suburbans, the 200 medley relay, and received a spark from an unexpected place.
"I tell the girls that the medley relay sets the tone for the rest of the meet," Redican said. "We have a freshman, Caitlyn Darcy, she swims the backstroke in our E Medley Relay team, and she swam her best time by 2 ½ seconds. She set the tone for all of them. And that gets everyone else charged up."
By the time the meet had ended, Upper Dublin had racked up 90 season-best swims, 35 (of 36) individuals earning top-16 points for the team, 24 district consideration or automatic times, nine gold medals (including all three relays), and the 30th consecutive trip to the top of the podium.
"It really means a lot to be a part of this team and to understand what it means to have this streak for 30 years," said junior Grace Brennan. "All the girls are sharing that same experience that they were 30 years ago. Some of the traditions they had back then, we still do now. To know that you're a part of something like that is amazing."
In addition to the desire to continue the tradition, the Cardinals' 30 years of supremacy has put a target on the backs of the team members. They know that every opponent is prepared to take their efforts to the highest levels to knock the Cards off the top of the heap, whether that's in the league meet or in a dual meet.
That's a lot of responsibility for a group of high school kids. But in understanding the team's tradition and knowing what it takes to keep it alive, the Cardinals also know how to use the streak as motivation, rather than as pressure.
In fact, though they're aware of storied history of the team, most of the newcomers don't realize just how special the streak is until the league meet approaches.
"I didn't feel nervous going into Suburbans, I was excited to do my best and see what the team could do," said freshman Kayla Mosteller. "Obviously we knew and we'd talk about number 30 throughout the season. As we got closer, I think we started to realize how important it was, and once we got it, that's when it really hit me just how big of an accomplishment it is."
That level-headed approach to the postseason meets begins with captains Amdor, Wilmoth, and Liz Medvedev; extends to the entire senior class; and filters down through returning swimmers and divers. A large part of adding to the team's history is for veteran swimmers to pass on what they have learned from those who preceded them.
"This year was probably my favorite year, our captains and seniors were so great, and they really brought us all together," said junior Juliet Lodewick. "I'm looking forward to having the chance to be a leader next year—whether you're a captain or not, I think everyone in my class is going to want to step up and be a leader and help out the way our captains and seniors do this year."
"The seniors have been such good mentors this year," said freshman Erin Andrews. "They've been so good at teaching us, and helping us adjust and get to where we need to be. I really hope I can take what I learned from them and bring that to next year's freshman class."
Another key to the Cardinals' continued success has been the understanding that not everyone can win a race, but everyone can contribute valuable points to the team total.
"Everyone wants to win, but those depth points are just as important," said senior Alli Stelling. "Some teams don't have the depth that helps you win bigger meets like Suburbans. Every top 16 finish gets points, and you come to realize how important they are."
"PRed (Redican) always reminds us, even if you're not the top point-scorers, all the relays matter, all the depth points matter," Brennan said. "Everyone can score points—it's a team effort, not just the people on top of the podium. It's because of our depth that we've been able to keep the streak going."
It's also helped make the teams part of a larger family—a family of shared experiences and successes. A family where members are always welcomed back, no matter how long they've been away or how far from home they may be.
Sam Wheatley was a senior captain on the 2014 squad that claimed the Cardinals' 25th straight league crown. She earned numerous All-Conference honors while swimming at the University of Cincinnati and is now pursuing a master's degree at the University of Minnesota. But there's no question in her mind that her "home" pool is in Fort Washington.
"After I graduated UD, I was barely home during my four years in college," Wheatley said. "But I'd keep in touch with girls on the team, and Pat kept an eye on me and kept in touch, and that made it so much more special to come home to, knowing I still had a place in Upper Dublin swimming.
"It's still amazing to walk onto the pool deck and see the banners and the names. My name's no longer on the scoreboard, because someone broke my record and now it's their turn, and someday someone will take their place. It was amazing to be a part of Upper Dublin swimming and it's amazing to see who else gets to be part of it."
Thirty years of excellent performances could never have happened without 30 years of consistency and hard work among the coaching staff. Redican is quick to point to those who have spent so many hours to guide the Cardinals through their winning ways.
"Our coaching staff is not boys' coaches and girls' coaches," he said. "We all work together and we're lucky to have people who are really dedicated and we've had that throughout the years. I have Chris Ianni and the boys have Geoff Scheuer and Brandon Pierce. And then you go back to Brian Palmé, Lisa Fantini, Jamie Forlini … they didn't come in and walk out the next year, they stayed and made a difference. And a lot of them have connections with us. Geoff swam for me, Brian swam for me, Lisa swam on the girls' team. Having people like that makes a difference."
Those efforts do not go unnoticed by the swimmers.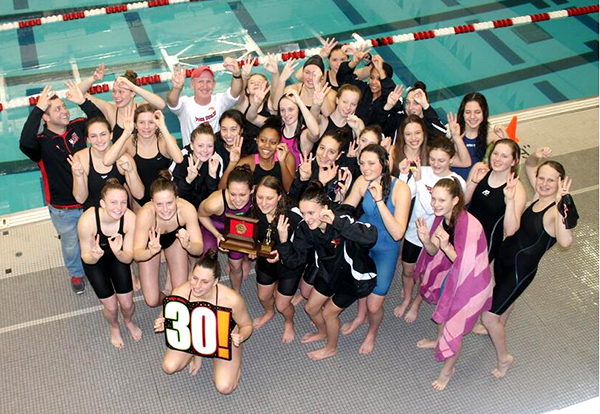 "I have never had a coach who has cared more about us and about swimming as PRed," Wilmoth said. "He and the rest of the coaches want us to be our best in the pool, but they also all care about us as people and who we are and the character we develop."
"If you're having a bad day, they're there for you," Stelling said. "They can be intense, but they're very compassionate. They know how to get us excited for these meets. They're just great people. I couldn't ask for better coaches."
"We can be crabby high schoolers, especially during those early practices, but they know how to get us going and how to motivate and push us," Amdor added. "I could never thank them enough, for not only me but the whole team. They are incredible."
With number 30 accomplished, the Cardinals turn their attention to the District and State Championship meets. When the final race of the season has been swum and the final State medal awarded, the number 30 will drift into the past and take its proper place in the history of Upper Dublin girls' swimming. And a new number will stand in their future.
Thirty-one.
They know it won't be easy. But they know it will be possible. They've got 30 years of success, history, and tradition that proves that younger swimmers will step up to make up for the loss of the previous senior class.
And they don't expect that tradition to end any time soon.
"I believe the team is in very good hands," said Amdor, who will continue her swimming career at Penn State next year. "There are some great leaders just waiting to step up next year and I'm sure they're going to fill our shoes and continue that legacy."
For those who will be coming back … they're confident that they can keep the streak intact.
"Our seniors did such a great job making this team feel so close," Brennan said. "They've really pushed everyone to be their best, and I'm looking forward to having the chance to do the same next year as a senior and helping to keep that legacy going."
"I'm not really sure how to describe how it felt to win Suburbans," Andrews said. "You win your first year and you want to win it every year after that to keep the streak going. And every time a new freshman class comes in, I think that happens all over again. And that's how you keep it going.
"Next year, we're losing some great swimmers and role models, but I definitely feel that we're going to come back strong. It will take a lot of hard work, but I know that for as long as I'm here, I want to do everything I can to make sure we continue to win. We all do."