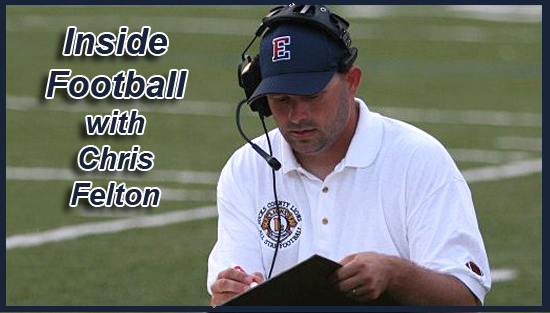 Look for Chris Felton's weekly columns over the course of the football season. Felton, who is providing color on WNPV 1440 AM's high school football broadcasts, boasts 10 years of coaching experience at the high school level and two years at the collegiate level. Felton spent eight years coaching at Central Bucks West and one year each at Pennridge and Central Bucks East. He also had coaching stints at Delaware Valley College and Gettysburg College. In his weekly column, Felton will not only be sharing his insights into the game itself but also attempting to familiarize fans with the game.
Chris Felton shares his observations as a coach and commentator about the common denominator in successful programs.
For non-playoff teams where do they go from here?
When you assess total improvement from year to year, you look at wins and losses, and obviously, that's the bottom line and the most important statistic, but when you add in other factors, you can still see improvements in programs even though there may not have been an increase in the win column. In fact, there may have been a decrease in wins. You might see that as a team is looking to build its program – they might have to take a couple of steps back before taking that jump forward. In short, improvements and setbacks in the win-loss column can be both telling and misleading.
Great coaches look at more than just wins and losses - great coaches evaluate the program in its entirety. It is also important for teams to be self-evaluators and self-critical. Some teams/programs/coaches/players may need to look in the mirror and ask, "Are we doing the right things? How can we improve? What's hurting us? What's helping us? Do we need to use a chainsaw or the scalpel?"
When building a program, everything needs to be evaluated and questioned- everything.
Great coaches are not too proud to copy other programs. Take a look at what excellent teams do and see where it can fit for your program. If there is something that is consistent with top-notch programs, then coaches should work to implement it into their programs. Very rarely do you hear successful coaches say, "We could never do that here." Instead you hear great coaches say, "Let's make it happen."
Based on your observations, what do the top-notch programs have in common?
In terms of the consistent observations I've seen in strong programs that other programs should look to emulate, there are a few of things:
1) In programs that are successful, you see a lot of buy-in in terms of players, coaches, administration, the community, middle schools, and the youth levels. You see principals and athletic directors always at the games, and they're involved. When possible and practical, there will be multiple coaches in the building. The schools themselves are excited about the program. That's not always the easiest thing to build – it takes some time. Often success breeds success, and with coaches in the building and with the development of the program, that can happen. I think the key is getting the community involved and the middle schools involved.
2) Install a system and have a plan. Implement your systems with the end in site. Great programs run a coordinated system that is adaptable to their players. Great programs don't just run plays. You look at Neshaminy, and you know they're going to run a pro style offense, a run-oriented offense. You take a look at Souderton, and they're a wing-t offense. Council Rock South runs the triple option. You take a look at North Penn, and they're a power offense. You take a look at Abington, and they run a variation of the spread. You take a look at CB South, and they run the spread. What you start to find is that successful teams have systems in place that are adaptable. Mostly likely they will have their middle schools running their offenses. When you look at it on game night, you can see the coaches calling the games, and you can see the players understanding the systems, and they're running their systems well as opposed to running different formations, different plays and kind of a mix-and-match of different systems. Good systems lend themselves to efficient practices and understanding by design what your intentions are on offense. The same is true with defense.
3) You need to develop a strong staff. In high school football, you're pretty much dealing with volunteers, and there's a lot of transition in staffs. The key to having a strong staff is having a key number two, that very strong number two assistant who is your right hand man. Teams need a strong defensive coordinator and a strong offensive line coach. If you look at some of the strongest staffs out there, they always have a strong coordinator with them, and that's consistent. At Pennridge, Randy Cuthbert and Bob Rosenberger work well together. At Abington, you have Tim Sorber and his defensive coordinator, Kevin Conlin. At Souderton, it's Ed Gallagher and Barry Benfield. Take at look at what Mike Carey did with Mike Pettine and later Dick Beck and now Steve Devlin. He was and is a significant reason why those teams experienced that level of success.
4) The most successful teams are teams that have a weight room program. There are a couple of key things with that. It's not just getting kids in there to lift weights – it's actually having a plan. Great teams focus on squats and power cleans, and you can tell they focus on those two things by how they run, you can tell by their build. In terms of speed, they train for football speed and concern themselves less with 40 yard dashes or mile run tests. The good programs continue to lift with intensity during the football season. As the year gets longer, they're going to get stronger. When they face a team of equal talent and maybe even equal coaching but not of equal strength, they'll win the football game.
5) Great teams, particularly during the playoffs, place an emphasis on defense. Great teams realize they're not going to go anywhere unless they have strong defenses and good defensive coordinators. Great defenses know how to adjust and they know how to tackle. If you want more information on defense, read my article on getting defensive by clicking on the following link: http://www.suburbanonesports.com/blog/chrisfelton/inside-football-chris-felton-week-8
6) Great programs develop great character in their kids. They don't just teach football – they teach great character. If you have character and then face adversity, there's no challenge on the field the players can't beat together. That's obviously an important lesson on and off the field. In terms of the football field, that great character is put to the test during sudden change situations.
7) Good programs know how to pick their non-league schedules. They pick their non-league games with a purpose. If you're a building program and you're trying to improve and develop confidence, you pick teams that you can compete with and get your numbers up and get a .500 record. When you get elevated into a higher level and are a more established program, you start trying to get competition that is equal to you. When you get to the level of a North Penn and Abington, teams should be scheduling good playoff competition to get themselves ready in weeks one, two and three, so they are battle tested early. North Penn does that year in and year out, which is a big positive for them. I don't care who they play the first game, I don't care where they play the first game, I don't care what the seedings are – North Penn will be ready for that team. I don't know what their opponent's schedule has been, but I'm sure they're not playing teams the caliber of La Salle or St. Joe's Prep. North Penn has played tough teams, and they will receive the benefit from that- now.
Looking ahead at some of the District One Class AAAA playoff matchups:
THE REAL SEASON STARTS FRIDAY NIGHT
North Penn at Bayard Rustin
I don't know too much about Bayard Rustin, but I know a lot about North Penn. I know it's a program that's always in the playoffs, and I know it's a program that emphasizes the key things that are imperative for good programs – they have a strong coaching staff, they play good defense, they have an improving offensive line.
North Penn wins
Pennsbury at Abington
Probably the two games Pennsbury wants back are their first game and their last game. I also know Pennsbury has a very capable staff, they have tough kids down there, and they have a system that they believe in both offensively and defensively. Galen Snyder will have his team ready. Abington is probably a little disappointed after what happened a couple of weeks ago when they lost to Council Rock South and, as a result have to share the title. However, they are a top seed for a reason. They have tremendous talent, they have a very good coaching staff, and they have a program that has been built and continues to be built, and they're starting to see the fruits of their hard work. Tim Sorber and his staff continue to generate very good players. They will definitely be ready for Pennsbury. For both teams- THE REAL SEASON STARTS FRIDAY NIGHT.
It's interesting when you have common opponents. There's been some discussion whether there should be a seeding committee. There are some positives and negatives with playing someone you're so familiar with. I would like to see the Suburban One League's top competition face teams from other conferences, so we could get to the bottom of which confidence is strongest. If, in fact, the Suburban One League is a stronger conference – they've been beating themselves up enough already. They shouldn't have to meet week one, regardless of who wins or loses. It would be nice to see some sort of rule put in that conference teams shouldn't play each other in the first round.
Abington wins
Central Bucks South at PW
This is an interesting matchup. You have two coaches who are new to the playoff scene. You have a young coach in Dan Chang at PW and a very experienced coach in Dave Rackovan at CB South. Anything can happen in 48 minutes, and CB South offensively is as explosive as anybody. I find this game difficult to predict because PW plays better defense, but they haven't faced the level of competition that the Titans have played against. I predict an extremely high scoring affair. I see PW pulling this one out.
Truthfully I cannot make up my mind. I am saying PW, but one minute after saving this I am going to want to go back and say CB South.
Upper Dublin at Council Rock South
These are two programs that have been developing over the past five or six years. They took their lumps early on, and they got better. Now they're both at very good points where they're sharing or outright winning their conferences. Both coaches are very respected in the league. That's going to be a good game. Bret Stover will have his team ready, but I think Council Rock South is the number one seed for a reason.
CR South wins
As always, good week and good football