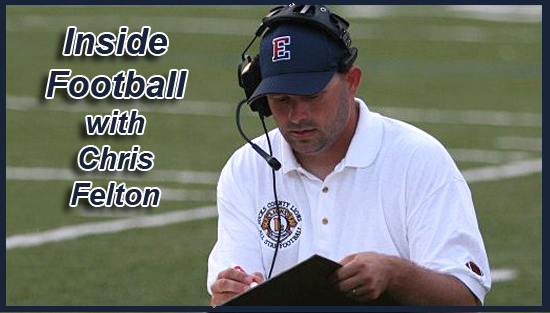 Look for Chris Felton's columns over the course of the football season. Felton, who is providing color on WNPV 1440 AM's high school football broadcasts, boasts 10 years of coaching experience at the high school level and two years at the collegiate level. Felton spent eight years coaching at Central Bucks West and one year each at Pennridge and Central Bucks East. He also had coaching stints at Delaware Valley College and Gettysburg College. In his weekly column, Felton will not only be sharing his insights into the game itself but also attempting to familiarize fans with the game.
North Penn vs Neshaminy
Defense wins playoff football games, and the North Penn defense played lights out on Friday night versus Neshaminy. The North Penn defensive line, led by strong end Shayne Watson, shut down the Neshaminy running game. The linebacking corp, led by Ralph Reeves, lived in the Neshaminy backfield all night. Matt Smith and Danny Wynne played well and did a tremendous job of setting the edge.
The Knights only gave up four first downs the entire night
Although outmanned, the stubborn Neshaminy defense played well overall. This young team will build off of this experience. In terms of the Redskins and 2012? All I can say is watch out.
Looking forward to next week.
CR South and Garnet Valley are very similar and have similar approaches on offense. Defensively, Rock South gets the nod and, therefore, gets my pick.
Both Pennsbury and North Penn are playing very good defense and controlling the ball on the ground. This is going to be a great game and will have incredible intensity. North Penn in a tight contest.
Until next week
Good week, good football