Look for Chris Felton's weekly columns over the course of the football season. Felton, who is providing color on WNPV 1440 AM's high school football broadcasts, boasts 10 years of coaching experience at the high school level and two years at the collegiate level. Felton spent eight years coaching at Central Bucks West and one year each at Pennridge and Central Bucks East. He also had coaching stints at Delaware Valley College and Gettysburg College. In his weekly column, Felton will not only be sharing his insights into the game itself but also attempting to familiarize fans with the game.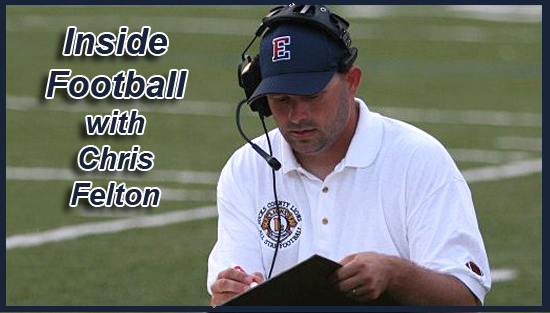 SuburbanOneSports.com: North Penn defeated Pennsbury 27-3 in an all-SOL game on Friday night. You were at that game – share your thoughts.
Chris Felton: The first observation that would pop out is how much North Penn continues to improve each week in the playoffs. Whether it's the run defense or their offense, it just seems they're becoming more and more the North Penn that we expect to see at this time of year.
I thought Pennsbury showed a lot of promise, particularly on the second drive when they drove 87 yards on 16 plays. At that point, it was 7-0, and I believe Pennsbury had the ball on North Penn's five-yard line, and it was a fourth-and-two. The decision was to kick a field goal. You can't blame a coach for kicking that field goal. He wanted to come away with something. Regardless of what the decision was, that was a significant momentum shift. After that, that was it. North Penn did not look back.
Pennsbury needed to get points in that situation, but North Penn was able to hunker down and stop them inside the five-yard line, and that was a momentum shift for North Penn.
Another thing that popped out to me is that North Penn seems to be getting faster. The North Penn team I saw on Friday night is not the same North Penn team I saw in early September. With Dan Gevirtz and Kyle Mayfield, their speed is very impressive.
SuburbanOneSports.com: Talk about the upcoming District One AAAA title showdown between North Penn and Council Rock South.
Chris Felton: I think this is going to be a great game. I think if you would have asked anybody at the start of the playoffs who was going to be in the District One Championship game, most people would probably say these two teams.
First of all, North Penn – as I mentioned, they have improved every week, and they certainly have played well enough to be in this position.
Council Rock South – you have to tip your hat to coach Bedesem for the extreme improvement that program has made over the past five or six years. It was a program that in 2005 and 2006 was struggling to win football games, and then slowly but surely, they started winning football games. They had a .500 record, they got into the playoffs, and they started winning playoff games. They lost to North Penn last year (in the district semifinal), and they're taking every step. This has certainly been a five or six-year period of constant progression, which is exactly what you would expect of the program.
As with every other team in District One, if they want to stake their claim as a top team in District One, they're going to have to beat North Penn. Until teams do that, me personally – I'm not going to be a believer that they're the top team in District One until they can beat North Penn.
There's only one team out there that has beaten North Penn on a semi-consistent basis, and that's Neshaminy. Neshaminy was young this year, and obviously, they had their shot at it a couple of weeks ago, and they didn't come through. Again, in order for a team to be considered the top team in the district – regardless of what their seed is – they have to beat North Penn. They are going to have their opportunity on Friday night.

SuburbanOneSports.com: What do you think Friday's district title game will come down to in the end?
Chris Felton: I think it's going to come down to discipline and execution. You have two systems. North Penn is a little more diverse. They can throw the ball, and they can run the ball very well. Council Rock South is the triple option, and they're not going to pretend that they're not. Everybody in the stadium that follows both of these teams and knows anything about District One football knows what Council Rock South is going to be running. That includes obviously North Penn, so it's going to come down to execution for Council Rock South.
At the end of the day, just like in any other big-time playoff football game, it's also going to come down to defense. North Penn is going to have to prove they can stop the triple option, and because of the numbers they sometimes put up, Coucil Rock South's defense is sometimes overshadowed. I think it's one of the top defenses in the area.
Again, it's going to come down to execution and defense.
Prediction: Scores are tough, but I'll go North Penn 27, Council Rock South 13.