Abington junior Eric Dixon announced at a news conference Tuesday that he will be taking his basketball talents to Villanova University. Check back for a photo gallery of the event.
By Mary Jane Souder
ABINGTON - Eric Dixon stepped away from the podium and exhaled, his relief unmistakable. The Abington junior had just offered brief words of thanks to the many who supported him along the way, and he could at last relax and enjoy the moment.
And what a moment it was.
Moments earlier, Dixon – via video filmed on a basketball court where it all began in Cresmont Park - revealed his college choice, unzipping his sweatshirt to reveal a gigantic V. No explanation was required. Villanova University is Dixon's school of choice, a decision that was met with an immediate roar of approval from the students and family members in attendance at Tuesday's news conference in the auditorium at Abington High School.
"I was battling between two schools Saturday and Sunday," Dixon said. "This weekend really cleared my mind up.
"Obviously, they're a great basketball program, they have a great coaching staff and great players, but it came down to off-the-court stuff. Usually when you go to college, that's where you're going to stay for the rest of your life. I love where I live, I love where I'm from. There was no reason to go away when you can go to the best school in the country, arguably, that's 40 minutes away."
So it was hardly surprising that Dixon's video was filmed in a community park where he has logged countless hours working on his game.
"That's where the school worked out in the summertime," Dixon said. "There where I go in summertime when I'm just having fun playing around with my guys.
"It's just a special place to me. It's where I really started playing (basketball) with my friends, going there at night under the lights. It's kind of where I fell in love with the game."
"I thought it was pretty special how he went to the roots of where he grew up playing basketball," Abington coach Charles Grasty said. "He talks about the community.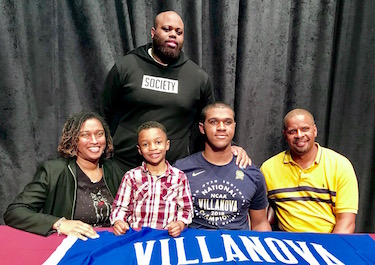 "We had a very heart-to-heart talk, and he talked about wanting to be part of the community for a long time. Even weighing his decision – the type of person he is he's saying, 'I want to go to this school, but I want to make the community proud of me.'"
When it came time to choose a college, Dixon had options galore with offers from 14 schools, including Drexel, St. Joseph's, La Salle, Temple, Pitt, Penn State, Miami (Fla.), Oklahoma State, Georgetown and Rutgers. In the end, it came down to four schools – Villanova, Virginia, Seton Hall and Louisville.
"Over the (basketball) season, there were four schools that kept in touch with me, and I felt like if they were going to keep in touch with me during the busy basketball season, during their busy schedules, I must be important to them somewhat," Dixon said. "I really started talking to the coaches, getting to know them a little bit more, and this is the decision I came to."
That's not to say the decision was an easy one. It wasn't.
"It was harder than people probably think," said Dixon. "These are dream schools for kids. Just to say no was a really hard decision."
Although he says he was not swayed by Villanova's national championship run this winter, Dixon admits he's been an avid fan.
"I live in 'Nova National somewhat, so I was going pretty crazy when they won," he said. "Winning was also a very big part of my decision.
"I could have gone somewhere and played 30-35 minutes as a freshman, but the way they win basketball games is really intriguing to me."
******
Eric Dixon's arrival on the basketball scene at Abington was accompanied with lofty expectations. He wasted little time before living up to them, averaging 15.5 points and 7.2 rebounds as a freshman with seven double-doubles.
Two years later, he is already third on the school's all-time scoring list with 1,616 points, trailing only Richard Wright (1,681) and teammate Robbie Heath (1,642). As a junior, he averaged 24.0 points and had 14 double-doubles, but those numbers don't tell the story of the 6-7 forward's evolution as a player.
"Before he came in, he was a scorer," Grasty said. "He had a scorer's mentality. He wanted to put the ball in the basket.
"We talk about last year's (District One 6A) title game at Villanova – he only had 11 points, and a lot of players who are normally used to scoring will start forcing shots and taking bad shots, but he was throwing a lot of outlet passes to Robbie Heath. Robbie Heath had 30 points, and in the locker room, he was like, 'Look, it wasn't my night. It was Robbie's night. We won a championship, and that's all that matters.'"
Dixon has won a whole lot in his three years at Abington. The Ghosts – 67-17 over the past three seasons - have won three SOL National Conference titles and back-to-back district titles.
Although Dixon finds himself center stage on the basketball court, he shies away from the spotlight off of it.
"He's very quiet, very humble," Grasty said. "He's done some special things throughout his time here. He's part of our Athletes Helping Athletes. Walking down the hallway, a kid might be having a hard time, and he'll walk them to class. He's just a really, really special person. It's bigger than basketball with him.
"I have him in class, and he stayed after and talked – he didn't want it to be like this, but he did want to let people know he appreciated the support. I said, 'Just embrace it, man. Embrace the support. This is your community, this is where you're from. Enjoy it.' I'm proud of him."
Grasty's pride stems not only from Dixon's accomplishments on the basketball court but also his growth off of it since he arrived as a freshman.
"He was quiet, we tried to get him to open up and talk a little bit, but that just wasn't his demeanor," Grasty said. "Once he started opening up a little bit and just started understanding the community had his back – you could see his growth.
"He's opening up more, he's talking to people more. Basketball – he's a special player, but just to see him grow as a person, that's the special moment."
Dixon's work is not finished, and even though the recruiting process is behind him, he will continue to play AAU basketball to elevate his game in preparation for his collegiate playing days at Villanova.
"They just want me to come in and be a basketball player, believe in their culture, work hard," Dixon said. "In terms of how they want to use me, they're just going to let me play my game."