On Tuesday, Jan. 24, 2017, Central Bucks East senior CJ Gillmer was recognized for signing a letter of intent to continue his baseball career at Washington College. To view photos of the event, please visit the Photo Gallery.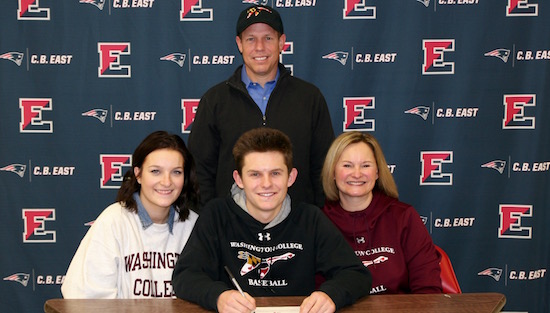 CJ Gillmer – Washington College (Baseball)
Major: Political Science, Minor in Pre-Law
Final list of colleges: Washington College, Flagler, Immaculata
Reasons for choosing Washington College: "I loved the coach, the atmosphere of the program, the feel of the uniforms that are sponsored by Under Armour. It's a cool thing to be a part of. My coach from my summer team got me involved with the coach, so we started talking. I went to a camp, and it all worked out from there.

"They were interested, so I went back down and did an official visit. I spent the night with one of the players and got to ask the guys questions about what the team was like and what the schedule was like whereas instead of hearing from the coach to hear an actual opinion. After that, I definitely knew that was a place I wanted to go."
What was the progression that led you to playing baseball at the collegiate level? "I've been playing baseball my whole life. I guess I've never had a loss of passion, so it's always been my goal, my dream. It's kind of like a dream come true now that I have the opportunity to play at the next level. It's been something I've been working towards my whole life since I was a little kid. Now I get to live it.
"My recruiting process started a little later than I would have liked it to. I did all the big tournaments down south and all the summer traveling and didn't get much out of those. Then we started to pick and choose which schools we wanted to get in contact with, which schools had my major in an area I liked. It just worked out with Washington College compared to the other ones."
Coach Kyle Dennis says: "CJ's commitment to play college baseball is indicative of his hard work and devotion to the game he loves. He works on his craft daily - be it lifting, hitting or working defensively. As an underclassman, CJ impressed coaches in the offseason and has been a mainstay in our lineup. CJ is a talented defender that plays the game hard. Last year he really impressed us offensively. He ended the season hitting in the middle of our order. He was our best hitter against off speed pitches and one of our most consistent hitters all season. He was a tough out to get. He challenged every pitcher to throw strikes and worked deep counts. We look forward to CJ having a strong senior year on the field as a leader and returning starter."
About CJ:
Favorite food: Chips Ahoy! cookies with milk
Favorite movie: The Sandlot
Favorite music: Country & Rap