Plymouth Whitemarsh senior Sophie Kolkka was recognized for signing a letter of intent to continue her lacrosse career at St. Joseph's University. (Photo provided courtesy of Dave Sherman, Plymouth Whitemarsh High School.)
Photo: Seated (l to r): Connie Kolkka, Sophie Kolkka and Paul Kolkka.
Standing (l to r): Niko Kolkka, Stefan Kolkka, Callie Kolkka and Griffin Kolkka.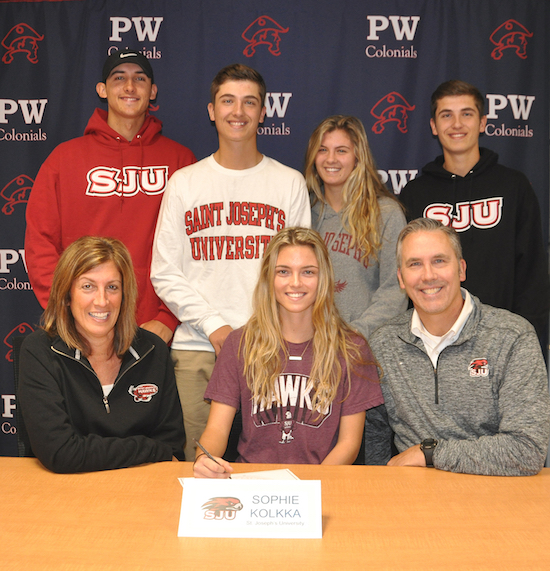 Sophie Kolkka – St. Joseph's University (Lacrosse)
Major: Food Marketing
Reasons for choosing St. Joe's: "Once I stepped on the campus, I knew it was for me. The academics at St. Joseph's are remarkable, and the women's lacrosse program is one like no other. I made a special connection with those who are already attending SJU and knew this was the school for me."
What was the progression that led you to competing in lacrosse at the collegiate level? "I've been playing lacrosse since I was in third grade. I have continued with the sport and have learned new skills each and every year. Playing summer lacrosse and competing against those who were college bound led me to want to continue my sport at the collegiate level."
Coach Ellen Reilly says: "I am excited for Sophie this year. Last year she experienced an injury in our first game against Radnor. She ended up sidelined the entire season. Prior to that, she played midfield for us. Sophie is an awesome athlete. She is just as good in field hockey as she is in lacrosse. When she steps out on the field, she doesn't let up. She is tough, has great skills, understands the game and has an athletic attitude."
About Sophie:
Favorite food: Mac and Cheese
Favorite movie: Step Brothers
Favorite music: Country