To view game action photos, visit the photo gallery at the following link: http://photos.suburbanonesports.com/
YORK – Cassidy Koenig was saying all the right things after Upper Merion's 3-0 loss to Hempfield in Saturday's PIAA Class AAA title game at Central York High School (15-25, 25-27, 23-25).
"If you really think about it, we were second in the state," the Vikings' junior setter said. "That's amazing."
Koenig took a closer look at the silver medal that was draped around her neck, and then – in a moment of complete honesty – described what it really felt like to finish second.
That disappointment was reflected in the faces of her teammates as they bid their tearful farewells at the end of a remarkable season.
"It's very disappointing, and it's just so frustrating knowing that we beat them before," senior Devyn Ingram said in a somber postgame scene after posing - and pretending to celebrate - for the perfunctory trophy shots with the fans. "It will be exciting in a few days. We finished second in the state, and that's a big thing, but it sucks right now because it just ended."
The Vikings made history with their trip to the state finals – no Upper Merion team in any sport had ever advanced even as far as the state semifinals.
But the players took little solace from the fact that they'd earned a spot in history after falling to a Hempfield squad they had defeated in pool play 2-1 one day earlier.
"We wanted to win, especially since we knew that we could beat them," Ingram said. "We just came up short.
"The difference between yesterday and today was our blocking. They got a lot of big kills, and that gave them so much momentum. They also picked up on our tendencies."
On Friday, the Vikings played at a level that bordered on perfection as they rolled to a first place finish in their pool, defeating the state's top-ranked team, Pine-Richland, as well as Hempfield and Unionville.
One day later, it was Hempfield's turn to display something pretty close to perfection.
"You can't beat a team that talented when they play like that," Upper Merion coach Tony Funsten said. "We did our best, and we played our way back in the match. We just needed one big play, but we just couldn't get one."
The Black Knights had a lot to do with the Vikings' inability to make the big play as they did everything right – digging up every kill attempt, getting touches at the net and finishing off plays with some monster kills by the duo of sophomore outside hitter Morgan Lowe and junior middle blocker Rachel Lenz.
But the real difference maker in the match may have been senior libero Brittani Young, who quite simply refused to let anything touch the floor.
"Their libero played flawlessly," Funsten said and then amended that statement. "She made a couple of mistakes, but she made so many positive plays, and when she plays that well, they're just a machine."
The Black Knights played with almost methodical precision from the outset, turning a 2-2 tie into a 6-2 lead after back-to-back kills by Lenz. It was a 9-3 game after a Nicole Pyle block, and things never really improved a whole lot as the Black Knights opened up a 20-9 lead after a Lowe kill on their way to the 25-15 win.
"Oh my gosh, they played so good," Upper Merion senior libero Shannon Phillips said. "They earned every single point. Their defense – they pushed through absolutely everything we had.
"I think between yesterday and today – we didn't really acknowledge the fact that they would pick up on what we do, and we would have to figure out different things to run on offense."
The second game was a classic battle. The Vikings took a quick 3-1 lead after back-to-back Melanie Ingram kills. They still led by two (11-9) after a Devyn Ingram kill, and a Casey Griffith winner put the Vikings on top 14-11.
Things looked promising for the Vikings when – after back-to-back Devyn Ingram kills – they led 18-14, prompting the Black Knights to call their first timeout of the match. An Annie Lawn service ace made it a 19-14 game, and a Koenig winner gave the Vikings a 20-14 lead.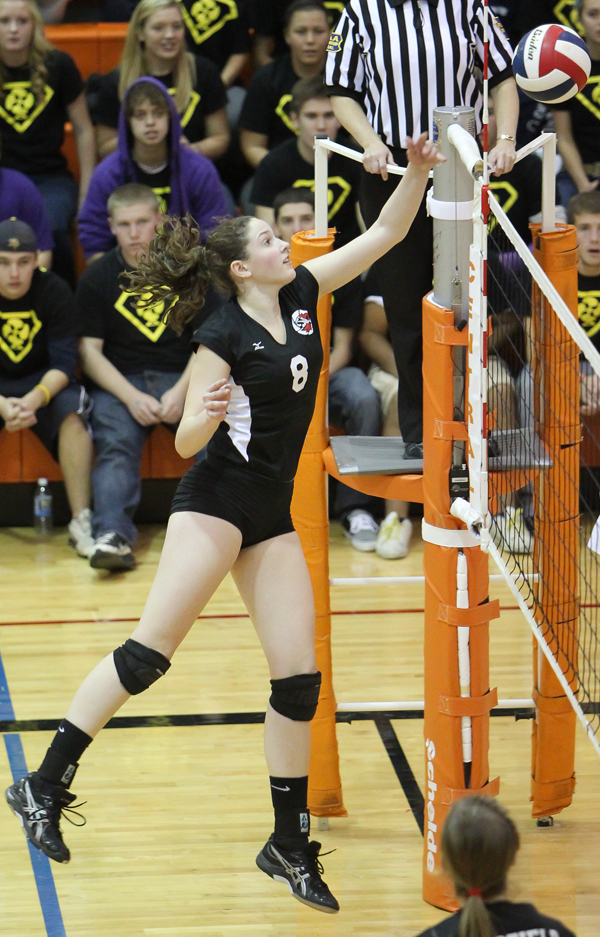 The Black Knights came roaring back, knotting the score 22-22 after a Lowe kill and going on top 23-22 after a Lenz kill. Heather Krick answered with a winner to knot the score, but Lenz followed with a block. The teams were deadlocked 25-25 after a Hempfield hit into the net, but a Christine Rickert tip was followed by a Brittany McMullen block, and a 27-25 win was in the books for the Black Knights.
"They came out a lot stronger than yesterday," Griffith said. "Today they knew what their goal was, and they came and accomplished it."
Game three was another battle. The Black Knights took a quick 5-3 lead, but the Vikings rallied to knot the score 7-7 after a Devyn Ingram kill. Hempfield opened up a 16-12 lead, but the Vikings refused to go down quietly, rallying to knot the score 20-20 on a Devyn Ingram kill. It was still a 23-23 game after a Krick block, but that's as close as the Vikings would get.
"The fact that those last two games were as close as they were – it just showed the way we played all year," Funsten said. "They were playing perfect volleyball, and we had a chance to win the last two games.
"I am so proud of my team because we could have quit. They were playing a team that was bigger, stronger and more talented, but we never quit. We just never, ever quit. If we could have gotten that one win – that's how we usually transfer it into another one, but we never got to put any doubt in their minds."
The Vikings closed out their season with SOL American Conference and District One Class AAA titles to their credit as well as a state runner-up finish. Not bad for a team that – for several excruciating minutes – thought its season had ended in last Saturday's Regional Tournament.
Only a stunning upset of heavily favored Parkland by Carlisle allowed the Vikings to have new life.
"We're here because of Carlisle," Griffith said. "We always talk about that."
If fate took Upper Merion to this weekend's state tournament, talent and determination kept the Vikings there until the final match of the 2010 scholastic season.
"We thought it was fate for us to get here," Koenig acknowledged. "We thought, 'Oh maybe…' because our season was over for five minutes."
On Saturday, the Vikings lost to a Black Knight squad that – for one day at least – was the better team.
"They really did deserve this title," Phillips said. "It's really bittersweet because for the seniors – it's our last game, and it's really tough to end it on a bad note, but we made history."
Statistically, Griffith had a team-high 15 kills to lead the offense. She also had six digs. Koenig had 32 assists and nine digs while Devyn Ingram had 15 kills and six digs. Melanie Ingram had five kills and 12 digs while Phillips had 20 digs
"It was a great experience to make it this far," Griffith said. "It's nothing to hang our heads about, but we definitely wanted to win."
While the Black Knights – District 3 champions seven of the last 10 years – captured their third state title in the last decade, the Vikings will have to be content with the fact that they put their names in the history books as the first Upper Merion team to reach the state title game.
"It means a lot, but we didn't come to lose in the finals," Funsten said. "It happens, so maybe we'll be back next year. You never know, but you want to take your run as far as you can take it.
"It wasn't a fluke that we beat (Hempfield) two out of three yesterday. They went to school in playing us, and they came out very prepared and had a great game plan. They executed. They weren't perfect, but they were as close as you can get."
NOTES: Earlier in the day, the Vikings defeated Dover 3-1 in the state semifinals (25-23, 20-25, 25-21, 25-14). Koenig had a triple double to lead the Vikings – 15 kills (eight in the first game), 40 assists and 15 digs. Devyn Ingram had a monster 22-kill, 19-dig effort while Phillips had 29 digs. Melanie Ingram had five aces, eight kills and 19 digs. Griffith had four aces, eight kills and 16 digs. Krick had four blocks.